Oral Sex Tips: Get Her Good and Hot
Sex in any capacity is always such a pleasurable event but just like men love to receive head, women absolutely love to be treated to a good amount of oral sex!  Believe it or not there is no wrong way to perform it on a woman but some moves are better than others and by applying some of these oral sex tips, you'll be the master of her clitoris in no time!  I don't know of too many women who don't like to have a guy go down on them and as a matter of fact, more often than not I hear that it is the ONLY way some women can even get off!  That's not true for all but I can vouch for the fact that oral sex performed as part of foreplay is an awesome prelude to actual intercourse and can help in getting your woman ready to orgasm.  Because it usually takes longer for women to get off than men, to ensure that you guys don't finish before we've gotten ours, going down on her before penetration can pretty much guarantee a mind blowing orgasm every time!
Kissing her whole body except in between her legs is a nice way to tease her and get her ready for the real tongue to clit action!  You may be surprised to learn though that constant stimulation to the clit with your tongue without any break can actually be more irritating than pleasurable.  Most of the nerve endings responsible for allowing a woman to orgasm are located all in that one spot.   Just like a man's most sensitive area of his penis is the head, if we as females were to concentrate only on that one area while giving head it can prove to be too much!  Applying pressure from your tongue for a few seconds while moving it in a circle then backing off only to go back in for more is an incredible sensation!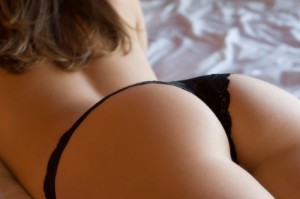 Gently sucking on the clitoris is another big way to create unbelievable stimulation.  Don't go overboard and suck too hard because you can hurt her.  Create the same amount of vacuum with your tongue in that location as you would if it were her breasts and you'll send her through the roof with ecstasy!  Alternating between licking and sucking is the ultimate way to really get her hot!
Whether she is lying on her back, sitting on your face, or you're giving her oral from behind, woman love to receive head in any way you want to give it. Do it and do it often!  It's the best way to stimulate a woman to the point of climax due to the fact that all of your focus is on her clitoris which more often than not gets neglected due to ignorance.
It could never hurt to do a little research on the topic of oral sex tips in order to figure out something new and exciting for you to pull out of your bag of tricks.  Books, websites and porn are all great reference material for learning something new about giving great head.  Once you find out what it is that turns her on the most, she'll never want to get out of bed with you!