Anal Sex Tips: How To Get Her To Say Yes!
For whatever reason when the subject of anal sex comes up, ladies cringe and men grin from ear to ear!  It's not that ladies don't want to try it and with the right anal sex tips it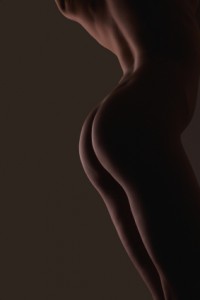 can prove to be extremely enjoyable!  It's just that because the anus is so tight of a place and it can seem intimidating with regard to the pain most ladies feel as though they will be subject to!  It doesn't have to be that way if done right, slow and gentle.  It may take a little getting used to but speaking with a few of my female friends who have had anal sex and do so routinely, they tend to all agree- with the right guy it can be a turn on!
Maybe it's due to the rough portrayal we're all used to seeing in some porn films when there's a scene involving anal sex.  It does seem like the guy performing the deed is usually being kind of rough.  The secret to anal sex, especially for those women out there who have never tried it, is for the man they are doing it with to be really gentle.  Easing the tip of the penis in slowly may hurt a little at first but gradually the anus stretches out enough to accommodate and can feel quite wonderful!  If a guy is thrusting his penis in and out of his woman's butt with no regard for her feelings she's going to end up physically hurt and he'll end up feeling terrible. And I'm willing to bet that will be the first and last time your lady will try it!  Remember guys, slow and gentle.
Another way to ensure that your woman receives pleasure from the experience is to go out and buy a really good sexual lubricant.  There are even some that have been designed specifically for anal sex and contain a little bit of a safe numbing agent to aid in the ease of penetration.  Without any kind of lubricant at all, the friction caused by moving your penis in and out of the anus can tear the walls in the anal canal and be quite painful.  The lubricant not only ensures this doesn't happen but helps to ease the penis in while the walls stretch to accommodate it.
Be patient when dealing with a woman who may not think the sound of anal sex is all that appealing.  It can be a scary thing for a woman if she's never done it before.  Try not to pressure her into, the only way she is going to enjoy it to is if she wants it too, not if she's begged into submission!  Just remember, you have an anus too, how do you think it would feel having something foreign introduced in the canal? Exactly.
With the right anal sex tips along with the right lubricant, anal sex can be very enjoyable and may even prove to be a new part of your sexual routine if introduced the right way!  There are scores of literature that help to master the art of sex, don't be afraid to reference them for ideas on how to make anal sex a pleasant experience for both of you!