Sploshing: Cream Her Panties With Food Play
The sploshing fetish may not be as popular as the stocking and suspenders or foot fetish, but it is perfect for fun-loving couples who want to take sex to the extremes. Sploshing engages all of the senses. It's not perfect sex, although it can feel that way as your inhibitions disappear and you're slipping and sliding to frantic orgasms. Covering the body in sticky or slimy substances to achieve arousal is the basis of sploshing.
Sploshing fanatics love to use food during foreplay. On the other hand, some people don't feel a sexual arousal toward messy food play, but each to their own. Sploshing is another name for Wet and Messy (WAM), and there is a British magazine dedicated to the art of sploshing named Splosh.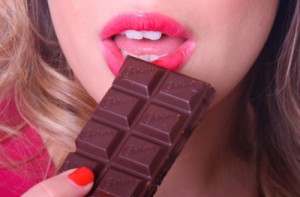 One such reason why it is popular is because it is harmless fun. It mimics the sexual fluids that are released during sex. That squelching sound as a dick slips into a moist pussy is pretty much the all over feeling as the food applied to a partner squelches with him or her. Custard, cream, cake batter, angel delight, ice cream, honey, treacle, trifle, cream pies are tasty and appealing to use during foreplay.
Some couples like to get wet and messy wearing clothes, or naked. Although the WAM fetish covers all messy substances, it does not include the bodily fluids of semen, urine, vomit or feces.
If you've never before tried sploshing, it doesn't have to get too messy. You could use ice cream or other edible treats on a partner's anatomy and lick it off. Make it an excuse to burn off the calories with a hot sex session. Sploshing may not be as mainstream as golden showers, but it has featured in some popular TV shows, including Secret Diary of a Call Girl, the Graham Norton Show, and CSI New York.
Sploshing can get as messy as you want it to, so either buy some plastic sheets, especially if you plan to have fun away from the bathroom, or use the bath tub to experiment.