Dirty Sex: Share a Kiss Full of Cum
Sex can be as extreme as you want it to be. Golden showers, domination, BDSM, the list goes on. While the former three may or may not be classed as dirty sex, any form of foreplay including the use of seminal fluids could well be one of the top ten in the dirty sex category. Seminal fluids contain pheromones, and if you're filling her mouth up with cream, why then does it feel gross if she wants to kiss you with a mouth full of your white slime? I've experimented with this scene several times. Some of my ex lovers have felt no shame in tasting their own ejaculation, while others have point blankly refused. Great sex can often get messy.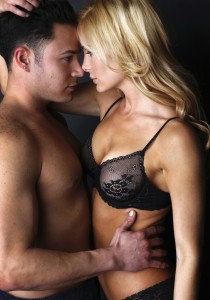 I guess it's the same with the smell of pussy, as if you've just gone down on her, made her cum, and your face is full of her sticky slime, but now you want to kiss her, she may feel repulsed by the smell. As a female, I find the scent of pussy to be very arousing. While I've had no lesbian fantasies, I would love to lick out a girl and make her cum. It must feel quite an achievement to make a woman come with your tongue. So I don't mind when my boyfriend comes to kiss me with a mouth full of cum, and his face smelling of pussy.
I believe that we all have this "animal instinct" need to have dirty sex, and while it may take a while to manifest in some men and women, it comes easily to others. There is nothing to feel ashamed of in taking a partner aggressively. It can feel sexy for a woman to feel so wanted by a partner. You have to have her immediately, and even walking to the bedroom to have sex is too far to travel. Even hornier is for her to dominate you, throw you against the wall, pull down your trousers, and suck you until you explode hot cream over her face, only what if she still has the cum in her mouth, will you kiss her in the horny moment or still refuse? Often we need to take a chance to take sex to another level.