Weight Loss: The Importance of Fats in the Diet
To achieve substantial weight loss, the body requires optimum nutrition. Monounsaturated fats, like those contained in rapeseed and olive oil, help the body to burn off saturated fats. Polyunsaturated fats are also beneficial and are found in sunflower oil. Many individuals turn to fat-free or low fat foods for rapid weight loss, but these types of foods contain the addictive ingredient sugar. Cutting fat out of the diet altogether is risky.
The Healthiest Fats
Both these fats are essential to the health of the body, and they are found in peanut butter, nuts, seeds and oils. Reduce the intake of saturated fats, found in processed food, biscuits, crisps, cheese and pastries. On the ingredients label, saturated fat is disclosed as hydrogenated fat (liquid fats that have been re-hardened to improve the taste and texture of food). Write down everything you eat in a food diary, and try to stick to a healthy diet 80 percent of the time.
The Health Benefits of Fats
Monounsaturated fats boost heart health. Oily fish, including mackerel, salmon and tuna contain monounsaturated fats and omega 3 and 6 essential fatty acids (EFAs). Omega 3 shrinks fat tissue and regulates the metabolism. Omega 6 is found in sunflower seeds and its oil. It has anti-inflammatory benefits and benefits skin health. Omega 9 reduces the risk of stroke, arteriosclerosis and heart disease, and is found in borage oil.
For anyone suffering from elevated blood pressure eating a diet high in monounsaturated fats will help to lower blood pressure and maintain a healthy level of cholesterol, whilst lowering unhealthy cholesterol levels that are known to cause hypertension and heart disease.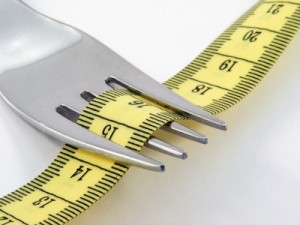 Monounsaturated fats are abundant in linseeds, pumpkin, sunflower, and a wide variety of raw nuts. Dieters are known to avoid high calorific foods such as these, but they are a beneficial way to reduce saturated fat in the body. A handful of mixed nuts and seeds supplies essential fats and reduces the need to overeat. Monounsaturated fats are also contained in hazelnut, olive and rapeseed oil.
How to Include Healthy Fats in the Diet
Try to consume two tablespoons of mixed nuts and seeds daily. Add them to a stir-fry, salads, sprinkle them into porridge, or blend into a smoothie. Alternatively, drizzle monounsaturated oils over a salad, instead of using calorific salad dressings.
To Summarize
Steady weight loss is the best way to achieve long-term weight loss, but many individuals eat low fat or fat-free products with the belief it will support rapid weight loss. Monounsaturated fats, found in raw nuts, seeds and oils, benefit heart health and speed up the metabolism to aid weight loss. The key is to consume goods fats and avoid unhealthy saturated fats.