Pizza: Lose Weight With Pitta Bread Pizzas
Pizza is often avoided on a diet, as it is fattening. However, adding more vegetables and less pepperoni makes it possible to lose weight with pizza. A basic pizza base is loaded with complex carbohydrates, and eating too many of these can leave you feel bloated and fatigued. This recipe uses wholemeal pitta bread as its base. It is tasty, quick, and provides three of your recommended daily allowance of vegetables (although you could add more vegetables if you so wish).
Ingredients
1 to 2 large wholemeal pitta breads
2 to 3 mushrooms
1 red pepper
1 spring onion
2 tablespoons of tomato puree
Half a small cup of grated cheese (any variety)
Pinch of salt and pepper to taste
Method of Cooking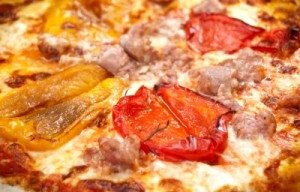 Toast the pitta bread. If you prefer to reduce the calories, cut the pitta bread in half and use both slices.
Coat the pitta bread in tomato puree.
Add the spring onion, mushrooms and red pepper (although you can use any vegetable).
Add the cheese and sprinkle salt and black pepper on top, before popping it under the grill until the cheese melts.
Voila! Delicious healthy pizza.
Why is Pizza Healthy?
Contrary to popular belief, pizza is not unhealthy, especially if you consume pizza with more vegetables than meat and cheese. On a vegetable feast pizza, it is possible to consume five of your recommended daily allowance of vegetables. To save further calories, dab the pizza with a piece of kitchen roll to absorb the fat.
Cheese contains protein, which is filling. Wholemeal pitta breads contain fiber to maintain the health of the bowels. Tomato puree contains the antioxidant, lycopene, which contains a component to prevent testicular cancer.
To Summarize
If you are following a low calorie diet, it is important to cut down on your fat intake. Although cheese is calorific, these pitta pizzas provide more fiber than fat. Tomato puree, spring onions, mushrooms and red pepper count toward four of your recommended daily allowance of fruits and vegetables.