Titty Slapping: A New Kink
Just when you thought kinky couldn't get any kinkier, titty slapping seems to have emerged out of the dark S&M basements and into mainstream bedrooms. There are many ways to titty slap as well as some alleged health benefits. Either way it can be quite stimulating for a woman to experience this kink along with a visual that can be very exciting. Imagine if you will, watching a supple set of headlights become erect and engorged as they bounce, jiggle, vibrate and pulse under your happy slapping hands.
Don't Hurt the Ta-Ta's
Safety is key when performing any kind of potentially dangerous sexual act. In the case of titty slapping "no" means "no" and not "I really mean yes." If any pain, other than stimulating pain, emerges during this act you may want to instill a 'safe word' if you do not think a simple "no, stop" will not do the trick. Either way, listen to your partner and be respectful of all boundaries.
Proper Slapping Form
Depending on the breasts you will be slapping it is important to use proper form. A closed hand slap is recommended. Having your fingers open can be much more stinging when landed. Therefore, think cupping your hands before striking a blow.
Titty Slapping Locations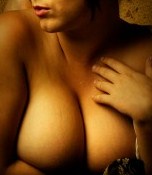 The nipple and aereola (area around the nipple) are the most sexually sensitive parts of a woman's breast. You will want to prepare the boobs for more vigorous slapping by giving some preliminary taps around this area hopefully engorging the nipples. If she is okay with these minor taps then you can begin slapping those tits with your cupped hand. A downward strike is best as the bottom of the breasts can be susceptible to bruising even though they are mostly made up of fat cells. However, if you hold one up and slap the bottom or side it will give them more stability and avoid discomfort. Try the double nipple slap as she stands, headlights at the ready and you come down nice and firm on both nipples. The slight sting should get her panties moist.
Titty Face Slap
It is fun to give her a chance to teach you a lesson by slapping her titties on your face. Many men get off on having a well endowed woman smash him across the face with her hard nippled utters while intermittently stroking his cock.
Thai Titty Slapping Pro
Khemmikka Na Songkhla is a Thai titty slapping professional with government support. She claims that by attending several titty slapping sessions she is actually able to make a woman's breasts larger. In fact, after one client developed breasts cancer and threatened Songkhla's business with a lawsuit the government conducted the first ever study on breast slapping to determine its safety. A six-month study on volunteers aged 20 to 60, found vigorous titty slapping left breasts cancer-free and measurably bigger.
So why not spice up your woman's fun bags and start titty slapping. She may even thank you as she shops for a bigger bra.