5 Movies That Will Turn Her On and Get You Off
Ever looking to find the perfect date that will have her loins burning and heart racing? If you've been trying to find a great way to easily and sneakily turn her on without her noticing, try and watch these sexy films with a bottle of wine and the lights dimmed down low. Sometimes all it takes to rev up her engine is a steamy scene in a good movie. She'll be all over you before it's even over! Here are 5 movies that will turn her on and get you off.
1. Wild Things. Matt Dillon, Neve Campbell, Kevin Bacon, and Denise Richards all wet, wild, and sexed up is enough to get anyone feeling sexy; and a little naughty. This steamy Florida based movie has some very steamy scenes that will leave her feeling the need to jump your bones before the movie is even half over. You may even get to see her freaky side.
2. Basic Instinct. Sharon Stone's portrayal of the bisexual and ruthless erotic Catherine Tramell is what puts this movie on the list. Being claimed as the sexiest movie of all time, Basic Instinct is a film that will most definitely get you laid before you have a chance to hit pause. Something about the movie's raunchy and somewhat creepy plot gets the blood flowing and orgasms pumping.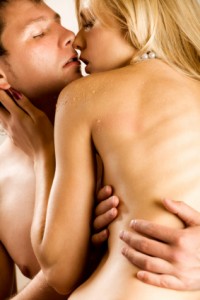 3. Gone In 60 Seconds. Yes, this Nicholas Cage movie makes our list. Fast cars, grand theft auto to save a loved one, and a completely sexy Angelina Jolie make this a steamy film classic. The soundtrack throws this movie above most due to its perfect timing of sexuality and seriousness. The car scene with Cage and Jolie will get anyone turned on and ready to get off.
4. Showgirls. Jessie from Saved by the Bell as a naughty showgirl turned stripper? Yes, please! This movie oozes sex in every scene. The only thing we recommend; fast forward Molly's rape scene to avoid your girlfriend getting depressed and turned off. The scene with Elizabeth Berkley as Nomi Malone giving Cristal and Zach a lap dance will send your girlfriend into a rage of sexuality you've never seen. No one can resist the sexy plot of this movie.
5. Unfaithful. Diane Lane gives an honest portrayal of a married woman who falls into the charms of a sexy younger man and ends up cheating on her husband. This movie isn't just about betrayal between spouses, but of a middle aged woman finding her 'sexy' again and becoming a woman she stopped being a long time ago. The heated scenes between Lane and her gorgeous lover are enough to make any woman feel a little heat between the legs.
Hopefully these 5 movies will turn her on and get you off. Try renting a few in one date for a night full of sex, wine, and more sex! Something about a dark room, hot actors and actresses, and a man we love gives us the need to be a little naughty ourselves and even put on a show for YOU!