3 Simple Tricks On How To Impress In The Kitchen
Women always have a list of things they want in a man; a man who can cook is usually on that list. For some reason the thought of a man in a kitchen creating yummy masterpieces just for us is so sexy. How good you are is really not even the point to us; how you try and the effort you put forth is the biggest factor. If the food ends up just so-so, that's okay. Seeing your willingness to get your hands messy and deliver a candlelight dinner is all that counts. Here are some simple tricks to learn how to impress in the kitchen and make your dishes more delightful that ever.
1. Seasoning is Key. Salt, pepper, garlic salt, onion powder, parsley flakes, rosemary, and red pepper flakes are your best friend in the kitchen; especially if your skills are lacking. Adding these favorite spices to any dish will give you the edge you need to make your meal taste less bland. Don't feel guilty about throwing some cracked pepper or sea salt on the table as an option to add later, sometimes even if a meal is great it still needs a little extra zing.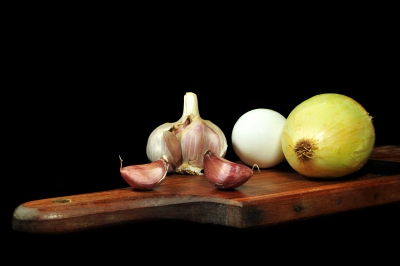 2. Simplicity is Best. When it comes to amateur chefs trying to impress the ladies, you need to remember that keeping it simple is going to be your best bet. Trying to cook up some crazy concoction of roasted pig in a lemon cherry glaze isn't going to get you any further until you're good enough to attempt such a feat. Try sticking to some baked salmon with potatoes and grilled asparagus or a roasted chicken in the oven with some corn and spinach. Simple meals look amazing on plates when arranged right and she'll probably enjoy the food way more than a fancy meal anyhow.
3. Candlelight, Wine, & Music. The ambiance of a meal you prepare is just as important as the meal itself. When you cook your meal, remember to set the table with a few rose petals, candles, and a good bottle of wine. Researching what wines compliment what meals is as simple as typing it into Google. She'll be amazed at your romantic efforts and not even worry about what the meal tastes like if you did screw it up. Keep the music light and airy; try and think back to some of her favorite artists and songs.
Finding out how to impress in the kitchen is a skill that can take years; even a lifetime. However, if you start out small and start practicing every week, you're only going to get better. Start out simple and add flavor to your dishes and you have a great start.