How To Get More Sex From Your Wife
It's true that marriage brings about a certain lack of sexual exploration and a mundane effort to please one another; but how do you survive the dry spells and get back to normal? Husbands for years have been complaining about the excuses wives make to get out of sex once the vows have been said and the rings have been exchanged. How to get more sex from your wife can be much easier than you think. There are some simple things you can do to start revving up her engine again and get laid more often.
Help Her With Chores- Studies have proven that men who help their wives out around the house with minor chores such as dishes, garbage, vacuuming, and cooking get more sex from their wives. The reason found is that the stress you take off her shoulders gives her more time to relax and she will more than appreciate your new found willingness to do chores for her without having to be asked. At the end of the night when she's ready for bed, well rested, she will be more active for sexual activity with the man who helped her out.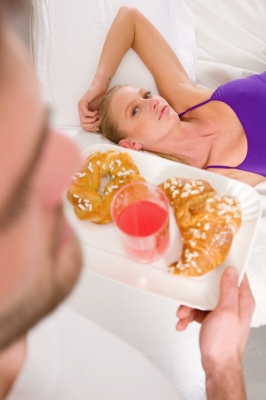 Change Your Approach- Most men get so comfortable with their spouses that the way they go about asking for sex is all wrong. Do you undo your zipper, whip it out, and ask for a blow job? Do you grab her boobs and squeeze her ass expecting her to get turned on? Well, then you're all out of luck. These approaches are absolutely irritating when repeated over and over again. If you do them now and then, of course they are fine, but to always start sex out like this is a big no-no. Try softly kissing her in bed and stroking her hair. You can even light a candle in the bedroom while she's brushing her teeth and be ready for a small romance before you hit the sack. The sweetness of it all will leave her unable to turn you down.
Offer A Trade- Wife always say she has a headache? She's too tired and sore to have sex? Try offering a nice slow round of intercourse followed by a 5 minute massage afterwards so she can fall asleep. Don't think of this as bribing her to have sex with you, but you doing something nice for her. Women don't orgasm much during sex and sometimes to be honest; it's just not as good for us as it is for you. So after you cum and are fully pleased, try and rub her feet or brush her hair in return.
How to get more sex from your wife is as simple as dishes, kissing, massage. Remember that the small things in her life are a big deal and sometimes they go a lot further than you think.