Food and Sex: Seducing Her With Food
If you are blessed with you culinary skills, then look no further than mixing food and sex. Using the right blend of herbs, textures and scents will get her knickers wet, and you don't even need to buy any of the popular aphrodisiacs. Serve the meal with a good bottle of wine, and the ambiance may be enough to seduce her into bed. Food and sex most definitely enliven the senses.
Create A Romantic Scene
Use scented candles, music and darkness to create a romantic scene. Listen attentively to her and create intimacy by staring into her beautiful eyes. Make her feel important. She may want to visit the latest restaurant, but why waste the money when the same, or even better, food can be cooked at home.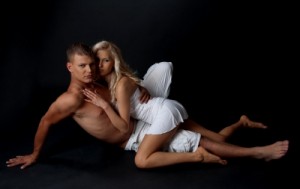 Food as Seduction
During my trip to Canada, I could not wait to try one of Jon's dishes, as he had warned me of his divine culinary skills. He beautifully presents his meals like a Michelin-star chef. On the first night, he cooked me lobster in a creamy sauce with tagliatelle. I had never before tried lobster, but it was absolutely yummy! From then onwards, I looked forward to every meal he cooked me. His use of herbs, garlic and textures melted well together. If food can seduce me like this, just imagine what it will do to her.
Finger Food
If you plan to seduce her with food and sex, but your culinary skills are poor, invest in a book. If you have been together a while, you will already know her favorite foods. Plan a meal around her favorite disk. Make it high in calories and make the excuse that you could both burn it off in bed later. Even better would be to make a food that requires the use of your fingers, e.g. shrimp. Watching her lick the butter or oil off her fingers is sexy. The great aspect of food and sex is it can get messy, but no such perfection exists in the bedroom. Let food arouse your senses into hours of wild lovemaking.
Feed Her in the Bedroom
If your hours of flirtation has turned you both randy, why don't you take your meal in the bedroom and feed her by hand. Again, this could turn messy, but the mind will be heavily focused on arousal.
To Summarize
Mixing food with sex to seduce her could turn her into your little sex slave. Whet her appetite with tantalizing scents that make her mouth water, make intense eye contact, and let good conversation dominate until you're both in bed ripping off each other's  clothes, and forget about the washing up until morning.