Painful Sex: How to Deal with a Woman who has Pain during Intercourse
Many men think they have a good sized package and when a woman reacts with a grimace or an audible 'Ugh' during sex, it is often taken as validation. Many of these same men have no idea that regardless of the size of their cock, the woman may be withstanding painful sex. Dr. Andrew Goldstein, director of The Center for Vulvovaginal Disorders in Washington, D.C. reports that approximately "20 million American women will suffer from sexual pain disorders at some point in their life." The last thing you want is her clenching her teeth, too embarrassed to ask you to stop, as you thrust away like a happy jackrabbit. Here are some reasons she may have pain along with a few pointers on how to deal with it.
Birth Control Pills, Meds and Hormones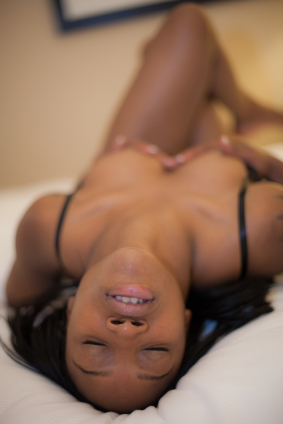 Sometimes intercourse pain could be caused by a deficiency in the hormone estrogen and/or testosterone. When women possess an imbalance in one or two of these important hormones the vagina can react in several ways that may result in sexual discomfort. These reactions may include dryness, minimal elasticity or infections. Ask your woman to get a blood test to determine if she has a hormone imbalance. If she does, she may have to give up or change her birth control pills as these work with tricking the hormones and could interfere with a remedy.
Tight 'Aint Always Right
Sure, it is nice to slip into a tight wet pussy but if it is too tight there could be some painful problems for her. Some symptoms of overly tight pelvic floor muscles include: low back pain, chronic constipation or anal fissures (ouch!). If her doctor thinks this may be the case then pelvic exercises can be recommended along with such things as biofeedback, muscle relaxants and some research indicates that Botox injections are actually helping this condition.
Pain During Deep Thrusting
If tears are running down her cheeks as you jackhammer her from behind chances are they are not tears of joy and may be the result of her endometriosis. This condition is when the lining of the uterus grows outside of the uterus in the pelvis, on the bladder or even on the colon. When her menstrual cycle appears it can cause bleeding within the pelvis that causes adhesions which create pain during a deep thrust. A doctor needs to perform a laparoscopy to diagnose as well as treat this condition.
There are many reasons she can be experiencing painful sex. Others include:
• Skin infections that cause chronic inflammation.
• Anatomical anomalies such as a tipped uterus.
• An old, untreated sexually transmitted disease.
• Injury
• Ovary malfunction
• Cysts
• Vaginismus which is not a new band name but rather spasms of the vagina muscles caused by a fear of being hurt.
Make sure she sees her doctor if she has painful sex so she can get better and you can fuck with peace of mind.