Al Fresco Sex: The Thrill of Lovemaking in the Outdoors
Sex is a wonderful art. Many couples make love in the bedroom, while spontaneous couples enjoy al fresco sex. There is nothing wrong with either, but a healthy sex life contains a bit of both. Life is too short to wonder about what other people think. The fears about al fresco sex, or deciding where to get kinky, may put many couples off the idea.
The Possibility of Being Caught
Whether you both decide to have sex in the forest, or the park, there is always the possibility that there will be other people around, and this may shock the stranger who spots you in the act. However, do not let this put you off your spontaneous streak. Having sex outside on a warm summer's evening is blissful, and there is nothing shameful in sharing your body with another.
In contrast, some men and women are turned on by the thrill of being caught. Voyeurism is a popular fetish and there are tons of kinky websites allowing men, women, and couples to post in videos, or masturbate, and allow strangers to watch. Sex is given the shame game, but if birds and bees can do it outside, why are adults looked upon with such judgment? There are far too many prudes, and not enough open-minded individuals.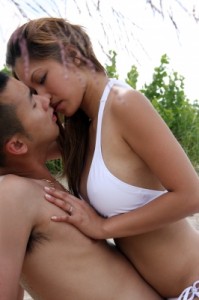 The Step Into The Unknown
Al fresco sex can create performance anxiety for some men, since al fresco sex is seen as rampant, fuck-me-against-the-tree type of lovemaking. The best thing you can do in this scene is to forget about where you are getting down and dirty. Gather the passion and deliver it to her in an exhaustive workout. Perform cunnilingus on her in a popular location, and she too may soon experience performance anxiety! You may not be able to share hours of foreplay before penetrating her, but consistent effort from both parties will provide a sweaty pheromone-enriched workout.
Plan The Event
While spontaneity is all about taking a chance whenever the mood strikes, al fresco sex does require careful planning, since you can't expect to get away with having sex in the freezer section of your local grocery store without getting thrown out, or arrested for indecent exposure. The cinema is a popular option, and having to remain quiet while there are other people around, can be a turn on for many. A better option would be to have sex in a park or forest, preferably in the evening when there is less chance of you being seen.
Al fresco sex is a great way to increase the intimacy, while you are taking a leisurely walk together, but it is important to choose a location wisely. Voyeurism is the enjoyable act of being caught, while al fresco sex is the thrill of lovemaking in the outdoors, so which do you prefer and where do you plan to try it?