How to Have Car Wash Sex
There is something about the feeling you get when you are in your car going through a car wash. It is as if you are in a cone of silence, blotting out the rest of the world, surrounded by blurred soapy splashes and the rumbling, rolling jostle of rotating brushes. In the end, a giant blow drier pushes every drip up an away as you sit, wide-eyed, wondering how to have car wash sex.
Take a Test Run
Not many car washes allow you to stay in your car during a car wash anymore. Search around and ask if it is allowable and then once you find a place take a test run. Be aware of such things as:
• The amount of light shining into your car.
• What you can see (usually if you see something, it can see you).
• How long it takes.
• One person can look from the waiting area to see if they can see in.
• Workers at the end waiting to hand dry your car.
Supplies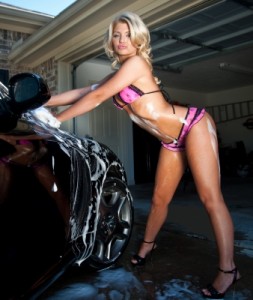 The more prepared you are the more comfortable she (and you) will be. The best things to bring along for car wash sex is: condoms, a blanket, fuck music, cold bottled water, hand wipes and/or hand sanitizer. If you can get a car with tinted windows, even better.
Convincing
Unless the two of you are into it, you may have to try to convince her. You can bring it up while lying around to see how she reacts or go with the 'spontaneous card' and spring it on her once you enter the car wash. If you set it up just right by having all your supplies on hand and a safe car wash picked out, you can simply start kissing her at the beginning and she may respond willingly. After all, it is a naughty thing to do.
What You Can Get Done
It does not take long to make it through a car wash. Therefore, planning what you can get done may help. If you want to go all out and fuck like rabbits then you both need to be in easy access outfits. A pull up dress with no panties or bra for her and elastic pull down shorts or sweats with no underwear (combat style) for you. A finished blowjob can be challenging but if the excitement factor is high and she is really glomming, there should be no reason not to be able to blow your load in under five minutes. If it is spontaneous, chances are you will do some heavy kissing, fingering, titty-sucking and maybe receive a hand job or a couple of licks. Use the blanket if she is nervous.
How to have car wash sex is a simple matter of being safe, practical and horny. Either way it is the perfect 'bucket list' achievement that you can sit around and laugh about years later. Who knows, if you get real good at it, what's to stop you from joining 'The Mile High Club'.