Golden Showers: Would You Try This Fetish?
If you believe that urine is a dirty by-product of the body, you should know that research has declared this liquid is abundant with enzymes, vitamins, minerals, and antibodies that no other product can offer your body. It is effective against diabetes, infertility, allergies, heart disease, cancer, and autoimmune disease, amongst others. In part, urine undergoes a filtering process daily, as the body is designed to filter out vitamins and minerals that it does not need at that very point, but urine is a natural cleansing by-product. Morarji Desai, a centenarian and previous prime minister of India declared that he drank his own urine—urotherapy (or Shivambu in India)—and puts this down to his exuberant health and longevity.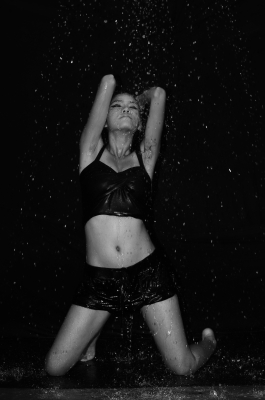 The point of this article is not to talk about the wonders of urotherapy, but to describe how urine is not a toxic substance, as society would make us believe. Golden showers, also known as watersports, urolagnia, undinism, and urophilia is a fetish where both partners enjoy urinating on each other. Unless you enjoy al fresco sex, where there is no need to lie in the bathtub to receive the spray of golden juice, the easiest and most effective way to experiment with watersports is in the bath or shower. In fact, during al fresco sex and golden showers, you can experiment anywhere.
Decide who will go first, and try not to use the first spray of urine in the morning, as it is at its strongest and darkest. You will notice that the more water you drink throughout the day, the lighter the urine. Aim for this. Drink plenty of water throughout the day, and then plan the golden shower event with a partner. You will have plenty of urine, but it won't have much of a scent (unless you've been eating onions, garlic, or fish) when you spray it over your partner.
You could go light and piss on her legs and upper body, or she may want you to piss on her back and ass. In my personal opinion, experimental sex can often get messy, so why not allow a partner to piss on your face, hair, and let the warm trickles of golden juice saturate your body, and then do the same to your partner. Perhaps only one of you wants to experiment. There is nothing dirty about urine or golden showers, as urine contains natural pheromones and many antibodies that could save your life, however, you would have to drink the stuff, and urine is not everyone's cup of tea.