The World of Bisexuality
The world of form filling can get very specific at times. When it comes to ticking the box stating your sexuality, it can feel very embarrassing for some people, especially for homosexuals who have not yet stepped out of the closet. However, this article will focus on bisexuality, since I've always found the world of bisexuality to be a fascinating subject. I used to think bisexuals were greedy, as one partner is often not enough, but that's the world of chemistry and attraction. It amazes me!
My partner and I have been together 14 months and when he first confessed his fantasy of making love to a man, I found myself growing strangely aroused. It didn't shock me in the slightest. I think I have worked so hard to develop my sexuality, and to regain the trust that was stolen from me in previous relationships, that his confession was enough to supply the stability I needed. If he had never been able to confess his fantasies to his ex-partners, I felt blessed that he is so open with me. Our sex life has only grown stronger. He still has threesome fantasies, many of which involve making flirtatious eye contact with me while we lick a cock together and the teasing turns into a mad passionate kiss, to my sitting in a corner watching him being sucked by a man and rubbing myself to a feisty climax.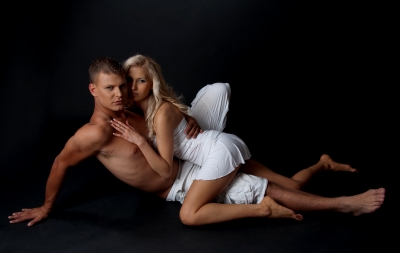 So what happens if you or your partner has bisexual tendencies? It doesn't make you a freak. It's a sign that you like to experiment. You are willing to go where most people fear to tread. I'm fairly open-minded when it comes to sex, but I've only ever had one or two fantasies about women. The need to satisfy my man with another woman does not even factor in my mind, as we are both satisfied with each other. His bisexual fantasies do not make me feel threatened. We have discussed choosing a "threesome" partner during fantasies, but back in reality he doesn't seem to want to turn it into reality. I have accepted he is bisexual, and I completely trust him.
If you are hiding a secret love of the world of bisexuality, it can be daunting to share such an intimate secret, but it is a positive move to discuss this with a partner. The unconditional love from a partner will make you feel wanted and accepted, and if there is judgment or questions of why, it's time to question why your sexuality threatens him or her into such a reaction?