Vajazzle: The New Pussy Parade
There is a new female trend that you may soon run into on one of your many cunninlingus adventures. It is vajazzle, the act of applying shiny jewels and glitter to the vagina area for an aesthetic addition to the already mesmerizing view of the female genitalia. Swarovski crystals and other various glittery trinkets are applied to the area from just near the labia folds all the way up to the bikini line. It is a whole new playing field that has the likes of such celebrities as Jennifer Love Hewitt quoted in US magazine saying, "It's kind of fun to walk around and just think that nobody has any idea how shiny it is down there!".
Brazilialize then Vajazzalize
It has been the popular cut of choice for American ladies of the current dating generation to shave off all their pubic (and ass) hair sporting a clean gym floor known as a Brazilian. The days of picking pubes out of your teeth have given way to this body enhancing move and most guys are digging it (or digging into it). Even humdrum, overweight, wanting-a-little-excitement-in- their-lives housewives have jumped on the clean vaj bandwagon. Now, vajazzling has turned up the heat and many businesses are simply offering it in the next room after making her bald. So, at the completion of a Brazilian, a 'vajazzalizing expert' adorns her chooch with shiny trinkets. It is similar to using her best fishing lure to attract the biggest catch which, in this case, is your cock.
Is it Safe or Will it Chafe?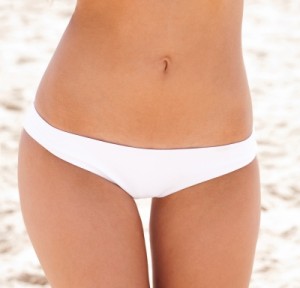 It is hard enough for a man to go south and get it right but when coming across a vajazzled pussy could he be blinded and cut to pieces by the sparkly, potentially lethal jewels? Although most women who have been vajazzled report that no lover has ever complained, you should proceed with caution if a glimmering light catches your eye when peeling off her panties. Make sure you do not run your tongue or skin over the crystals to assure that you will not get cut. Also, be careful around these jewels as they are simply glued on and if one comes off because of you she may very well shut down the pussy doors.
Encourage a Vajazzalizing Visit
Vajazzaling is yet another excuse for women to spend their (or your) money on themselves. The question is whether or not you should encourage your woman to accessorize her female bits. The truth of the matter is that the better she feels about herself the better she will treat you. Let her doll up her happy spot and tell her how much you love it. If it is early on in the relationship you can also encourage her and you will be viewed as an open minded, positive influence.
Take your lady by the hand and bring her to get a vajazzle. Make her smooth and shiny then head for some head and enjoy the view.