How To Tease A Woman: 5 Tips Every Man Should Know
Teasing a woman can mean many different things. It can mean you are trying to play hard to get, trying to excite her sexually, or just tease her and tickle her funny bone. Mastering the art of teasing depends a lot on the woman you are trying to get the attention of but there are some things that you can do that work on most women. Here are 5 ways to tease a woman and really get her hooked.
1. Use technology as a way to tease your woman throughout the day. Use flirty texts to tell her why you adore her so much and then back off and play the 'I have a meeting card'. It will leave her wanting so much more. Never fully forget to respond or ignore her or it will backfire. When you get together after work say, "Now…back to all the reasons I love you so much." She'll melt. Don't send her sexy picture messages (that's for us to do).
2. For this one, you'll need some self-control. If you've just started dating and haven't had sex yet or maybe you have but not a lot, use this trick. Towards the end of your date at her place specifically, offer to give her a massage. Oil her up and really do a good job on this one. Lick or kiss the back of her neck and shoulders lightly throughout. Don't overdo it though. Then, when you're done, go home. Don't leave abruptly or rude but say you have work early and you can't wait to finish this tomorrow. She'll be yearning for more until she sees you next.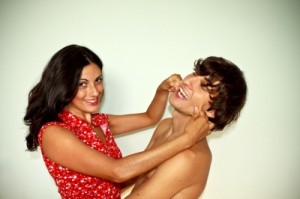 3. We love to be touched in the right ways. When you're out on your date or at the bar don't grope her and constantly hold her and squeeze her ass. Instead, when you open a door and she passes in front, gently place your whole and on her lower back and guide her through the door way. If you're sitting next to each other with a group of people now and then place your hand under the table to scratch her leg for a minute or squeeze her thigh gently. These little touches will leave her wanting your hands on you more and more.
4. Most women love their hair played with and touched. When you're in public (if she has long hair) softly sweep all of it back over one shoulder then kiss the side of the neck you left bare. If she has short hair, sweep her bands or strands out of her face now and then. If you're at home watching a movie, pull your fingers through her locks lightly and tease her with small kisses.
5. Winking and biting your lower lip when you look at her can be extremely sexy IF you do it right. If you're a jersey shore wannabe then forget it. If you're a confident sexy man who sees her eye flirting across the room, then give this a try once MAYBE twice throughout the night. Make it sexy and confident, then go up a little later and introduce yourself.
These 5 tips to tease a woman can be very easy and effortless if done correctly. Make sure you never overdo them and never do them once and not again. If they work in the beginning they'll work every few months on your girlfriend or wife as well.