How To Entice Her Into A Threesome
This is a lifelong fantasy of many men, and why porn sells so well, but if you are curious on how to entice her into a threesome, read on for some top tips. When you mention a threesome, she may want to experience the feeling of four male hands caressing her body, rather than see your enjoyment of four female hands making you feel like a sex God. The trick with threesomes is to get her to spill her desires and make her feel it is all her idea.
Make Her Feel Important
The threesome fantasy is not always about satisfaction for you. If you think in selfish terms, you may never experience one with your current girlfriend. I once had a threesome with two men. It was my first threesome experience, but it came naturally. The guys were best friends and neither felt strange about getting naked. This was a turn on in itself, as it is so easy to take on the macho role around a naked female.
It can feel threatening for her to know you fantasize about a threesome with another woman. The thought of two women fighting over the act of sucking your cock, teasing the tongue over your sensitive nipples, and giving you a heavenly French kiss to turn you rock hard is enough to cause a rift between you and her. Unless you make the threesome fantasy all her idea, it is doubtful it will turn into reality. Tease her into imagining how it feels to kiss another woman, to feel a woman's soft skin licking her nipple, without a hint of stubble. State that the mere sight of her touching another woman's body is enough to make you cream your tip, but do not go overboard about your ultimate fantasy. Go slow!
Question Her Fantasies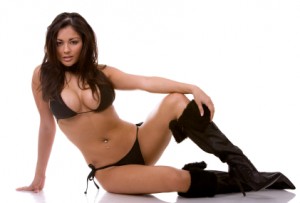 Primarily, you need to know if she has any secret fantasies. What has she always been afraid of trying in the bedroom? If the image of a threesome is surprising, try not to act too shocked when she admits this fact. Let the fireworks set off in your brain and stay calm. Question her exact threesome. Would she prefer to experience the touch of a woman, or is the experience all about turning you on? How does she react when you tell her, "That's hot, I'd love to make it real for you baby?" If she starts to feel threatened by your response, tell her that this experience is about recreating her fantasy.
There is always the chance that you will not appear in her threesome fantasy, and there will only be the role of spectator. She may or may not ask you to get involved, but enjoy the view.
Avoid discussing your threesome fantasies, as it can create a sense of mistrust. Instead, allow your girlfriend to take charge. If all goes well, you will be involved in the threesome. If you are searching for ways on how to entice her into a threesome, make the fantasy her idea and do not disclose your desires, as you do not want her to feel threatened by the idea. The key is to make her feel safe and secure. If she is the one in charge, the one receiving the pleasure and attention, it is more likely that she will feel tolerable about you giving the third girl the same enjoyment.