How to Get the Perfect Handjob
Having had years of experience greasing up your pole definitely makes you an expert on how to get the perfect handjob. Only you know the exact method that makes you blast off which is unique and special in and of itself. Although plunging into your woman and taking a tight, wet horizontal ride or having her slurp on your piece like an insatiable human Hoover is all well and good, sometimes you just want to sit back and watch her stroke your joint until you make her hand all messy.
Her Willingness
The last thing you want is a favor when it comes to a handjob. If your woman is not into it and decides to check her cell phone messages while jacking you off, you might as well do it yourself. Let her know that half the turn on is when she really enjoys pleasuring you. This way she will either genuinely gawk at your gleaming rod wrapped up in her pumping, oiled hand with wide eyes and a constant wet lipped tongue lick or she will act like it. Either way, it will be good for you.
The Grasp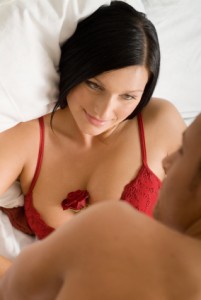 The next time you 'choke the chicken' pay close attention to your form. Once you understand what kind of grasp works for you then you will be able to convey this to your woman. Do you like a firm tug or would you rather a light touch?
Target Areas
It is important to be aware of your target areas. Some men are very sensitive near the head of the penis and need the stroking hand to make sure it begins and ends each pump up and over then back down again in this area. Other target zones may include the balls, the 'taint (area between the balls and a'hole) and/or the asshole itself.
Show Her
To get the perfect handjob means pushing away any embarrassment when it comes to your body. Demonstrating your personal style will work wonders on how she understands and executes this delicate action. Do not hold back and be as specific as possible. You may like a fast or slow pace, maybe a ball tug or teasing of the asshole. Also, let her know if when you cum she should stop immediately or if you like a multiple orgasm stimulation as she continues pumping.
To Lube or Not to Lube
Some guys like a dry pull. This can be tricky when dealing with another hand. Lube offers less chafing and turn-on squishy sounds of her going to town on your joint. Spit can be really erotic when she positions herself over your massive hard-on and drops long gobs of it into her stroking hand.
Communicate how to get the perfect handjob and she may really enjoy watching you enjoy her handiwork. If she gets the hang of it, you might get handjobs all the time including when you are driving, watching a movie in a public theatre, in a restaurant or during a summer hike which can always lead to outdoor sex.