The Best Summer Cocktails
There's always a good excuse to drink at any time during the year.  If it's winter then you want to drink to stay warm and beat the blues.  If it's summer then you're drinking because there are BBQ's, cookouts, pool parties and summer barhopping.  Since it's warmer weather, you need to equip yourself with some cocktails and drinks that suit the summer.  It's a careful balance, but we have faith that you know what your alcohol habits should be.  Just don't drink anything-girly dude.  The best summer cocktails follow:
If you're dealing with whisky drinks, then you should stick with the classics man.  Summer is a perfect time for Jack and Coke, Old Fashioned's and Seven and Sevens.  Get the Don Draper vibe happening and you'll be in business.  Stick with the classic whiskys and don't get too cheap with it.
Vodka drinks can get into girl territory, but if you're looking to keep cool then you should probably hook up some vodka in your orange juice or your lemonade.  Just don't let it become a Mike's Hard lemonade, because that isn't cool at all.  Drink vodka straight with some ice in the pool or get out and splash a little tonic water in it.  Actually, make that a vodka tonic with a lemon in it.  Mmm.
Rum is perfect for summer as well because it's a drink that practically grows on the beach.  Think Jack Sparrow or some shit.  Get Hunter Thompson with it and drink yourself to hell and back with the little baby airline bottles of rum.  Clear or spice works fine for any drink.  Throw some rum in a Pina Colada Slurpee from 7-11.  That shit is delicious.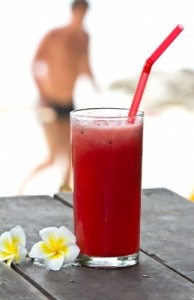 Gin and tonics are a good bet, but gin doesn't necessarily go good with other things so you might want to save this for a cold London winter or something.
Tequila is another tropical summer drink that mixes well with everything.  Sip some Patron straight from the bottle and you'll be partying like a Jersey Shore summer.  It's all good in the heat.
Lastly, you can probably work with some beers.  Obviously these aren't cocktails, but there are a ton of perfect summer beers that hook it up like the Sam Adams summer ale.  It's delicious and seasonal.  Any beer with a lime in it is also made for summer.  Save the Guiness for winter man.
The best summer cocktails?  There are a lot of them  Just pick something that suits your style and get drunker than shit.  Get embarrassingly drunk.  Summer is where alcohol problems begin, but no ones complaining while the sun is warm.  Drink away.