5 Best Places For Summer Dates
Summer is great for romance. The sweltering heat during the day, the breezy nights, constantly being outdoors under the sun or stars; women completely love being in love in the summer. During these few months, men have a real chance to go on some fun dates and make a woman fall in love, but you need to think outside the box. Here are some of the best places for summer dates.
1. Amusement Parks. There is nothing better than getting to let loose and run around like a teen again, and adrenaline is a great aphrodisiac. Taking her on a date to an amusement park can be unique and exciting. She'll see your sense of adventure and you'll be able to bond over terrifying roller coasters that will leave you feeling exhilarated and sexy.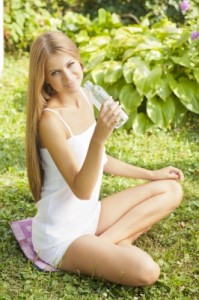 2. Water parks. What could be better than seeing your new girlfriend in a bikini all day and even some boob action as the forceful water slides pull up her top?  Bringing her to a water park for one of your first dates can let you have fun on the big slides and relax together and hold hands on the lazy river or chat in the lounge chairs. She'll feel special you thought to think outside of the norm and appreciate your fun side.
3. Mini Golf. This is a timeless classic date than never gets old. Mini golfing lets you have a good peaceful conversation while still moving around and having a good time. You can cozy up and help her learn how to putt and flirt through all 18 holes. You'll be spending time outside in the sun and time it right so you can see the sunset as well.
4. Sunset Picnics. This will not only impress her, it will make her feel like a princess. Finding a spot on a local beach or at a nearby park to sit and watch the sun go down as you pop a bottle of champagne is a romantic way of showing her you care. Bring some cheese, crackers, strawberries, and chocolates along and share your thoughts on special memories. It'll be a date she won't soon forget.
5. Adventure Dates. You can think of this as scuba diving, parasailing, or skydiving. If those seem out of your comfort zone or maybe hers, try something a little less adventurous but still active such as horseback riding, hiking, or four-wheeling. Taking her to do something active and different will get her blood pumping and adrenaline running. Later that night go to the beach with some adult beverages and wind down. This is a day she will be sure to tell her friends about.
Thinking outside of the usual or 'everyday' is imperative in the summer months. Women want to have adventures and be romanced and there's no better way to do that than to surprise them with something new and different. The best places for summer dates are places she wouldn't think you'd take her. Make her feel special and have fun with it.