How To Beat Performance Anxiety During Sex
I've recently visited Canada to meet my partner Jon who I have been talking to through Skype since April 2011. I'm sure he was more nervous than me, but I had an instinct that our meet would feel so natural, and it did. There is always the wonder, does s/he fancy me. Who makes the first move, especially when sex comes so easy through the Internet? Is it any different in reality? I would have to say no it is not different. Being real with someone is the best way to beat performance anxiety during sex.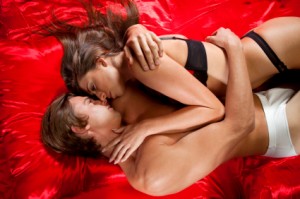 We always want to make a good impression with our partner, but if you can be yourself, and be open and honest, this already states that you feel so comfortable. I make far too many silly jokes when I'm nervous, but Jon already knew that. While we didn't openly kiss in the airport, there was a visible attraction just like when I first saw his picture and loved his mysterious look. I have never felt nervous about getting naked around a man. I am no stick thin model; I have meat on my bones. I love good food. After he ran me a bath and I purposely requested that he bring me a towel so he could see my breasts, he still didn't pounce on me. Although I desperately wanted to sleep after my long trip from the UK, my sexual mind was charged with making the first move as I lay on his bed dressed in a small towel. My pussy was screaming at me to make the first move. Simple thoughts of hearing his voice or even the sight of his smile as he stared at me with intensity haunted my mind and made my pussy twitch for attention. There was no way I could sleep in this state so I walked half naked to the kitchen in desperation.
Thankfully, he picked up on my strong flirtation and we were soon in the thrones of passion doing it doggy in his kitchen. There was obviously no performance anxiety for me, as I know my ass looks pert bent over, but Jon isn't used to such heat. He was with a woman who is so forthright about her sexuality and, no doubt, it was a scary moment for him as I experienced his nerves and tried to put him at ease. There is no easy way to beat performance anxiety during sex, but communication is paramount. In order to grow close to a partner, you must talk. Luckily for me, Jon is very connected to my emotional side, and I can pick up when he is nervous or paranoid, so we go together like two peas in a pod. Throughout the two weeks, the sex only got better. Although I couldn't quite get him to share a kiss full of cum, he came several times in my mouth, which was a beautiful exchange of love, and I love giving him pleasure. We had problems with oral sex in the beginning or my technique was a little off par with how he likes to stroke himself, but I'm a quick learner and soon adhered to his love of deep firm tugs. Talking of oral sex, no man has ever made me come so much during oral. His tongue is amazing.
This post is an honest exchange, but I hope it inspires you on how to beat performance anxiety during sex, because this only stems from fear. Trust that you are a great match with your partner and the chemistry you share will plow through all anxiety and help your relationship.