South Beach Diet Recipe- Balsamic Portobello Mushrooms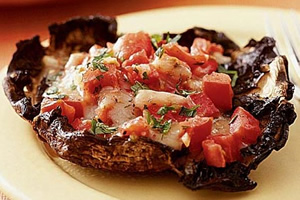 This free South Beach Diet recipe is for Phase 1 on the South Beach Diet.
The recipe is for "Balsamic Portobello Mushrooms."
Ingredients:
* 1 shallot or red onion diced
* 3 cups of Portobello mushrooms ( I like with sliced adult caps)
* 1 clove garlic
* 3 tbsp Balsamic vinegar
* Spirtz of Olive oil
* thyme
* basil
* chives
Directions:
* Sprits non stick fry/sauté pan with olive oil.
* Sauté shallots/onions for 2 minutes. Add Garlic and sauté for 1 more minute.
* Add Portobello mushrooms, Balsamic vinegar, thyme ( this is Great with fresh thyme) and basil. Lower heat and cover pan.
* Cook for 7-12 minutes until mushrooms have turned a brownish color and become flexible.
* If the pan gets dry you can add a splash of water, broth, or red wine.
The South Beach Diet consists of 3 phases.  Phase 1, Phase 2, and Phase 3.
This recipe is in Phase 1 of the South Beach Diet.