South Beach Diet Recipes- Whole Wheat Pizza Dough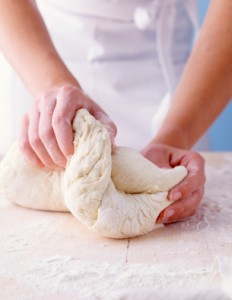 Here is a free South Beach Diet recipe for how to make whole wheat pizza dough.  This recipe is for Phase 2 of the South Beach Diet.
South Beach Recipe:
Whole Wheat Pizza Dough – South Beach Diet Recipe (Phase 2)
Prep time: Approximately FIVE minutes
Start to finish: Approximate FIFTEEN minutes
To make ahead: The dough will keep, in a plastic bag coated with cooking spray, in the refrigerator for up to 2 days.
Degree of difficulty: Moderate
Ingredients:
* 1 3/4 cup whole-wheat flour
* 1 package quick-rising yeast, such as Fleischmann's Rapid Rise
* 3/4 teaspoon salt
* 1/4 teaspoon sugar
* 1/2-2/3 cup hot water (120-130°F)
* 2 teaspoons olive oil
Directions:
Combine whole-wheat flour, yeast, salt and sugar in a food processor; pulse to mix.
Combine hot water and oil in a measuring cup. With the motor running, gradually pour in enough of the hot liquid until the mixture forms a sticky ball. The dough should be quite soft. If it seems dry, add 1 to 2 tablespoons warm water; if too sticky, add 1 to 2 tablespoons flour.
Process until the dough forms a ball, then process for 1 minute to knead.
Transfer the dough to a lightly floured surface. Spray a sheet of plastic wrap with cooking spray and place it, sprayed-side down, over the dough.
Let the dough rest for 10 to 20 minutes before rolling.