The Art of Fingering
You must remember that most women have been fingering themselves since they discovered their clitoris. Either way, it is best to realize that when you are on her playing field you are a mere amateur. The pro is underneath you and she already knows the art of fingering.
Don't Just Jam it In
A woman's vagina is a hodgepodge of anatomical wonders. Getting her wet then jamming in a finger or two can instantly transport her to her gynecologist's office complete with cold stirrups, latex gloves and finger jamming (less the wetness, hopefully). Now this is fine for role play but when you are about to display your talents the last thing you want her doing is wincing in pain or being turned off. Therefore, getting to know her anatomy (particularly her G-spot) is the first order of business.
Clitoris and G-Spot Locations
Aside from all the medical ins and outs such as the cervix, urethra, bladder, uterus and pubic bone when it comes to the art of fingering your major concern are the clitoris, labia and the g-spot. The clitoris is located above the vaginal opening, usually covered by skin similar to a hood. Pull back the hood and her "little penis" will emerge. The g-spot is located between the pubic bone and the front vaginal wall.
Fingering Techniques
If done right, fingering can bring a woman to multiple-orgasms and pave the way for the ultimate prize of your man pole. By the time you enter her she will be so worked up that no matter how large or small your cock is it will surpass your measly fingers and impress her nonetheless.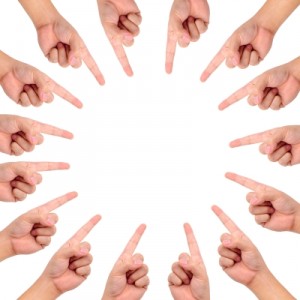 • Work the Clit – It is important to pull back that hood and gently press down on her clitoris with three or four fingers while kissing her lips and sucking her nipples. Slowly press and circle until she arches her back and becomes quickly moist.
• Open Up – After she is worked up, move down and begin spreading her labia (pussy lips) stroking and massaging all around them without yet inserting.
• One at a Time – The size of her vagina will depend on how many fingers you can fit in. Start by teasing insertion with your middle finger slowly dipping in and out. As she responds, begin to insert up to the first finger joint and then to the knuckle. If you think you can fit one or two more fingers, go for it but only if she responds favorably.
• Pump and Press – After insertion, gently pump your fingers in and out. Then when she least expects it, run your fingers along the vaginal roof toward her pubic bone and press on the spongy gaggle of nerves located behind the wall. This is the g-spot and if your timing is right her head will most likely explode.
Try the art of fingering and see if you have some props. If you can finger her while massaging her clitoris you may even turn her into a squirter.