Vile Sex Acts: Cleveland Steamer, Golden Shower, Dirty Sanchez and more…
Sometimes it is downright crazy how crazy crazy is and when it comes to vile sex acts, crazy takes the cake. Interestingly, some of these titles below can be found or mentioned in the film, Dodgeball starring Ben Stiller and Vince Vaughn. They are fun to try to find in the film; play with your parents. Now, fasten your seatbelts and feast your eyes on some taboo and sometimes pretty fucking gross turn-ons.
Blumpkin
You work up a big healthy dump. Now imagine, just as your butthole is stretching out all those nerve endings, you cum like a jackhammer with a spigot. Taking a shit while getting a blowjob is called a blumpkin.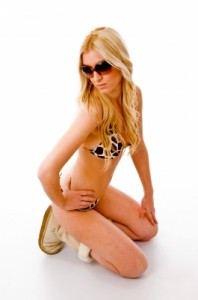 Rumbleblumpkin
Same as above except instead of that healthy log, you are blowing out gas and loose stool like a baby on prune juice. WHAT!!?
The Emeril
You get your woman into the number one position guy's love most, doggy-style. When you are about to blow it, pull it out, shoot it your hand, wait until she turns around and then flick your sauce into her face and yell, "BAM!" Just like the famous chef Emeril.
Texas Rodeo
Great for college fun. Grab some buds and hide them in your room. Bring a girl back and get busy. When you are ready yell, "Yeehaaaaa!!! and this will be the cue for your buds to emerge yelling, "Roe-Dee-Ohhh, Roe Dee Ohhh!" See how long you can stay on.
Cleveland Steamer > Chili Dog > Hot Chocolate with Marshmallows
Drop a deuce onto your girl's chest, then sit down in it and roll back and forth. Move up in-between her breasts and go from a Cleveland Steamer right into a Chili Dog as you use your fresh defecation as lubrication for a titty-fuck. Now, if you get far enough to actually blow your load you have just gone from a Cleveland Steamer into a Chili Dog into a Hot Chocolate with Marshmallows.
Golden Shower
Just like the title says, it is the kink of being peed on.
Arabian Sunglasses or Ray-Bans
It is best if you have big nuts for this one. Low hangers really work well. Hang her head off the edge of the bed and have her open wide. Plunge in and as she slurps away, drop your ball sack onto each eye.
Dirty Sanchez
Plunge it anal style going deep and hard then pull out, wipe the brown residue on your index and middle fingers and smear it under her nose. Now she's a Dirty Sanchez (should be said in a bad Mexican accent).
Humans have been defiling one another since the beginning of time. These vile sex acts are tame compared to some coined by our international brothers and sisters. Take bukkake (boo-caa-kee) for instance, originated in Japan. This is when a group of men unload their man juice onto the face of a willing participant. Looks like a vanilla ice cream eating contest gone awry.