Use Spontaneity To Your Advantage
The normal life is based on routine and not spontaneity. You awaken, have sex (if you're lucky), breakfast, off to work, arrive home, eat tea, late night lovemaking, and then its snooze time again. Is there no escaping routine? There is a great way you can break up the day and that's to invoke your sexual mind and use spontaneity to your advantage.
Spontaneity In The Workplace
Not everyone is obsessed with work. If you are not a manager or director, it's good to experiment sexually at work. Put your phone on silent and escape into the toilet to video yourself masturbating. Send this to your partner as a sexy surprise. Having to stay quiet while you play should feel thrilling. Once you have sent a sexy text message or video to your partner, perhaps you could encourage her to return the same. If your manager slips out for a meeting, try having sex on instant messenger or have text or phone sex.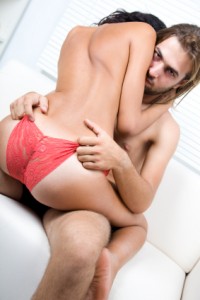 Try breaking up the routine workday with sexual fantasy. Not only can you use spontaneity in the workplace but also you can mold it into other areas of your life. Try a wild date with your partner, or try feeding each other during a date in a restaurant. Forget about the stares from other couples, just focus on the intimate pleasure between you and your partner.
Spontaneity With A Partner
In the evening when you arrive home from work, rather than eat your meal together and have a quickie session, why not forget about your evening meal and spend hours on massage and foreplay. Take a bubble bath together or share a steamy shower. Why not try writing an erotic story together. Develop a strong character and imagine how s/he would act. Developing your sexuality can involve different scenes and fantasies.
There are hundreds of ways you can use spontaneity to your advantage. Acting out of the ordinary can invoke slight fear, since there is always the knowledge that you could get caught in the act, especially if your mind wanders onto sexual fantasy in the workplace, but if you are careful and imaginative, no one needs to know of your dirty mind.