Must See Summer Music Festivals-2012
Finally, it's festival season.  It's a time for camping outside and doing drugs and smelling bad for three days while you have mud fights in front of a sweaty stage.  Don't get me wrong—it's awesome.  If you're going to hit up the summer concert scenes, here are the top 5 concerts to see this summer season.
1) BAMBOOZLE:  If you're planning to hit this up, then you need to get the jump on all of it.  It's coming up really, really quickly.  You need to buy tickets ASAP.  It's the weekend of May 18th.  It happens in New Jersey, which is surprisingly more fun than you think.  There's a fantastic campsite really nearby, where you can camp.  This year we've got Blink-182, Jimmy Eat World and Foo Fighters jamming.  It'll be awesome.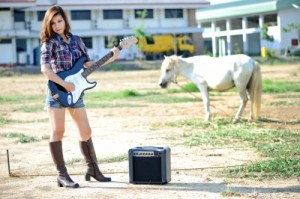 2) LOLLAPALOOZA:  Classic and badass, this festival is going on in Grant Park in Chicago.  August 3rd to 5th.  This is the place to be for alternative and metal stuff going on.  This year boasts Black Sabbath, Red Hot Chili Peppers, the Black Keys, Jack White, At the Drive-In, and so on.  Check it before you wreck it.
3) BONAROO: Get a few MDMA pills, a couple grams of psilocybin mushrooms and maybe a tab of acid because this camp-out is crazy.  It takes place from June 7th to June 10th in Manchester, Tennessee.  The lineup is a huge variety ranging from Danzig, Santigold, Radiohead, Phish, The Beach Boys, Bon Iver, Skrillex, Aziz Ansari and the list goes on and on and on.  I recommend you check out Major Lazer and Flying Lotus while you're there.
4) WARPED: A little more chilled out, and the best part of the whole ordeal is that it comes to you.  It's a huge tour, and will make for sunny, sun burnt faces and sweet bands.  It's roughly $40, and there are eight stages banging out the finest punk rock bands you can imagine.  Grab some brews while you're there, and mosh to some punk bands.
5) SXSW: Okay, I don't mean to be a dick here, but this already passed.  I'm putting it in here because you need to see it next year.  It takes place in Austin, Texas and there are a ton of movies and music and bands and good times.  It's young, it's hot and everyone loves it.  Next year, make sure you catch it.
So these are the top 5 concerts to see this summer.  Make sure you pack some sunscreen and stay hydrated if you can—it gets really, really hot.  Enjoy!
Image Provided By: www.FreeDigitalPhotos.net