Tips for Phone Sex
Alexander Graham Bell invented the telephone so that men could have phone sex with strangers across the country.  Probably.  That's not necessarily a proven fact, but I can imagine that he had something like that in mind when he strung all that wire together.  Phone sex isn't a hobby or a vice—it's practically an art form.  You won't win any Nobel Prizes for it, but if you read this article you can definitely pick up a few hot tips for phone sex.  You'll thank yourself for it next time you're drooling into the receiver.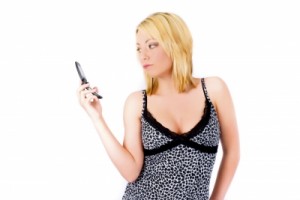 There are two different, distinct, but related fields of telephone sexuality.  There is "pay per minute to phone fuck a stranger" type phone sex, and "my girlfriend is out of town but I'm down right now" type of phone sex.  Both are admiral, though one is obviously more so than the other.
With your wife/partner/whatever: You need some serious skill here, because this is higher stakes.  You need to get her stoked, so when you see her next you can get smashing fast and furiously.  You probably (you at least should) know what she wants and what she likes.  You can cater to her likes and demands.  Get really detailed, because women aren't as visual as men.  They prefer the description, the pacing, the tone and you can work all of this in while you're getting it on.  Use the most descriptive adjectives you can think of and make sure she's getting a lot out of it.
On a pay line: Because you're paying for it, you can just do your demands.  Ask for what you want!  She can work it out.  If you have any weird fetishes, you can utilize this time to get that going for you.  Pro-tip: Set a time limit that you'll stick to. You'll regret it if you don't.  It's an expensive and messy habit so don't invest too much cash into it.
So there you have it dude, the crucial tips for phone sex.  I highly recommend that you call up your girl, or a pay line and get sexy on the phone.  If you get particularly desperate you can just dial through the phone until you hit someone who wants to phone-smush—though if you take that route, maybe you should *67 that bad boy so you don't get into trouble.
Image Provided By: http://www.freedigitalphotos.net/images/view_photog.php?photogid=4036