Partying and Girlfriends: The Face-Off
Every guy comes to a point in his life where he needs to decide what he wants and maybe what's more important. This applies to many things, but the ultimate Face-Off is partying and girlfriends. You don't want to give up partying but you want a girlfriend, or to keep the one you have. When do you know if you're ready to let go of the single lifestyle and settle into a more mature status with a girlfriend? Well, ask yourself these questions to try and figure out what phase you're in.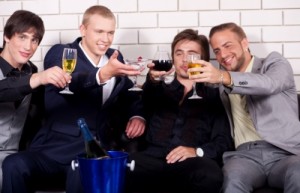 Do I feel regretful if I miss out? If you stay in for a night (either with your girlfriend, to study, because of an early work shift, or sickness) and miss out on a bar night with the boys, do you feel regretful and pissed that you missed out? Do you look at their FB and Twitter posts and pics and in self-pity say, 'I'll make up for it tonight!'?  Or do you shrug it off and truly feel unaffected?
Regretful: PARTIER STAGE
Unaffected: GIRLFRIENDS STAGE
Do I feel the urge to do her or do HER? When you sit in the office or at home before a big night out, do you get pumped just thinking about getting in your best pick-up clothes, going out with the boys, and dancing with the sexiest chicks in the club? Or do you get more excited to take her out for a relaxing dinner and a movie and then go home to hopefully score with your girl  instead of some random bar chick?
Random Bar Chick: PARTIER STAGE
Someone Special: GIRLFRIEND STAGE
Would I rather wake up alone or with someone else? If you're still into partying then you are okay with drinking to a slur and crashing solo. Even if you do hook up, you'd rather wake up with her gone before breakfast than endure a fake conversation. But, if you're slowly feeling more comfortable with the thought of her spending the night and enjoy having her around in the morning and into the late afternoon for some company…maybe you're changing your ways.
Breakfast For One: PARTIER STAGE
Breakfast For Two: GIRLFRIEND STAGE
Partying and girlfriends is a toss-up for a lot of men and one that is dangerous to juggle at once. It can be done for a while but eventually you'll learn that the two don't mix. Before settling in to one stage, be sure you're right. You don't want to waste too many years on partying and screwing over girlfriend after girlfriend but you also don't want to be in a long-term relationship too early and miss out on your prime partying years either. Follow the signs and you'll figure out whether you should be having breakfast alone or not.
Image Provided By: http://www.freedigitalphotos.net/images/view_photog.php?photogid=2125