5 Ways To Be More Romantic And Make It Fun
We get it. Most men have a hard time enjoying romance, let alone 'being romantic', but if you want to stay in tune with your girlfriend or wife, you'll need to learn. There are so many easy things you can do to up the romance in your relationship that don't even seem like work. Once you read these 5 ways to be more romantic you'll realize it's not as scary or boring as you thought.
1. Take a spontaneous trip. Pack up for the weekend that you had just planned to lay around together and rent movies and instead, GO SOMEWHERE! Take her to her favorite hotel or casino and get a room for a couple nights or even fly to Vegas for the weekend! If you're low on funds, pack up and go across town to a hotel next to a spa and get massages and sit around in the sauna all day.
2. Get candles, games, and edible oils. This tip works for both of you. Stop by your local sex toy store and pick up a stack of sex cards or a sex board game. Light some candles in your room before she gets home from work and play her favorite music. Being romantic doesn't mean not getting any sex! Give her a massage with some edible oils and when you're done, lick off the extra and begin your turn at the fun.
3. Suggest a monthly date night. Next time you're having dinner, tell her you have an idea you want to put in place. Suggest you go on a monthly date night that is different from what you normally do. Say every month you both as a couple have to do one thing you have never done before, like going skydiving, rock climbing, salsa dancing, or gambling. She'll appreciate your creativity and thoughtfulness.
4. If she looks good, TELL HER! Women NEVER get sick of hearing how great you think we look. If she looks especially good before a movie date one night, tell her why. Don't just say she looks sexy, tell her the specifics. If her eyes are sparkling, say it! If her skin looks soft, tell her! If her boobs look 'lickable'… let her know! When you ditch the generic compliments and really tell her why she's so beautiful, it'll get you a lot more points!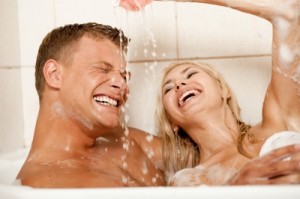 5. Learn to cook! For a lot of women, there is nothing sexier than a man who knows his way around a kitchen. There is a certain sensitivity he has and it shows he can put focus and effort into something other than sex and sports. Start small with some salads and simple desserts. After dinner when she's in the shower, cut up some strawberries and pour some melted chocolate over them. Have them in the living room for her with a glass of wine when she gets out. You'll probably find cooking is pretty enjoyable and something she really appreciates and that you can even do as a couple!
These 5 ways to be more romantic are not only easy but fun for you too!. Don't think of romance as Elton John songs and ballroom dancing; most women love the simple romance more than the cheesy staged kind. Enjoy your new found tips and have fun exploring your soft side.
Image Provided By: http://www.freedigitalphotos.net/images/view_photog.php?photogid=3849