How To Get A Girl To Do A Striptease For You
We get it; strippers are a male fantasy we can't escape. Some women loathe the naked dancing ladies and some girls will gladly get a bundle of "ones" and go with you to Boobie Row. Whether she lets you go to the strip club or not, you're wondering how to get a girl to do a striptease for you, huh? Well, here it goes; some advice from women to men who are clueless on how to set the stage for a striptease kind of night.
The Invite: Make sure your girl knows that you're planning a special night in for just the two of you. Tell her that you want to skip the bars and the noise and spend and evening at your place so you can focus only on her. Tell her you're making a dinner and have a great night laid out. Don't invite her over for beer and pizza if you want to see her moves.
Set the Stage: Please don't run out and get a pole just because I said that; read on before you take me too literally.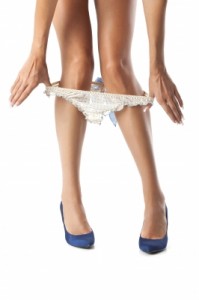 Food: Make a light salad with some very fluffy bread and some fresh fruit; don't make anything heavy or that will leave her feeling bloated and uncomfortable.
Lighting: Now's the time to get romantic. Light candles throughout the house or at least have some mood lighting kind of lamps on low or with a light fabric draped over them. No woman feels sexy in the wrong lighting. Don't leave her feeling exposed in a harsh light or stumbling for her balance if your place is too dark.
Music: Skip the rock, and skip the cheesy ballads. Pick something current that you know she likes. Picking songs that aren't too fast or slow on tempo is the key. Prepare a set list ahead of time and play it during the course of the night so that there's never an awkward moment to ruin the mood and stop her in her tracks.
Drinks: I'm not endorsing getting her drunk to make this work, but if she enjoys wine but rarely drinks it because one glass puts her in a 'mood', then maybe it's time to buy her a bottle of her favorite red or favorite bubbly. This will make her feel special and she'll loosen up in the comfort of your planned out settings.
Make Her Feel Sexy: When she comes in, immediately compliment her, skip the beautiful and tell her how sexy she looks. Touch her a lot throughout dinner and drinks. When you get up to grab her more wine, pull back her hair and kiss her on the neck. When you head to the living room after dinner, squeeze her hips gently from behind or whatever else it is she likes. These subtle but sexy strokes will subconsciously get her ready for your proposal.
The Big Moment: Don't ask prematurely, in fact, don't ask at all. Once you've started making out and things get heated, turn up the music to drown out any doubts she may have. Once you have her ready to take off her shirt, slowly stop her and ask her to do it slowly. Guide her to a standing position and sit back down; you're now in a great spot. Tell her how amazing she looks and lean back. The wine, the lighting, the compliments, and the music should all lead her right into that sexy little striptease you've been seeking.
How to get a girl to do a striptease for you can be work, but well worth it. Some women need more encouragement than others as well. If you play it right and make her feel like she's the best you've ever seen, she may just enjoy it so much that it turns into a treat you get more often than you'd think.
Image Provided By: http://www.freedigitalphotos.net/images/view_photog.php?photogid=4061