Spice Up Your Sex Life With Sexy Food
Food has the power to arouse every single sense in the body, especially if you choose to use it to benefit your partner's pleasure. Blindfolding a partner creates the anticipation for more since she has no idea when you will feed her a tasty treat, nor does she know if the food will be pungent or sweet. Tying up her hands so she is unable to touch you while you feed her creates a sexy scene. You become the one in charge of her pleasure and, while it may be frustrating for your dick to see her visually and audibly aroused, the act is to create more of this expectation. When you want to spice up your sex life with sexy food, it's always wise to make a list beforehand.
Sexy Foods To Try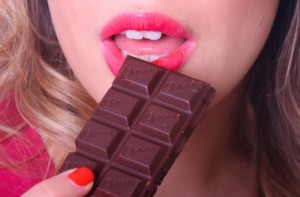 Chocolate
Ice Cream
Pasta
Cream
Honey
Asparagus
Butter
Oil
Cake
All of the above foods are easy to find and they taste great. Asparagus can be drizzled in butter and you can tease it over her lips so the butter dribbles down her chin and infuriates her slightly. Aim to get slightly messy since it's fun to feel food on the skin. Ice cream is especially arousing since it can be drizzled on any part of the body and its cool texture will always create a few goose bumps. When she's ready to get her own back, she could give you an ice cream wank, and the next time you eat ice cream the fond memory will come flooding back.
Pasta is so versatile since it can be drenched in cream and be a great treat to feed each other in the midst of passion. Foreplay can burn hundreds of calories, especially oral sex. Even if the session does grow slightly messy, there's always the fun of shower sex where you can lather each other up. Playing with numerous textures, whether it's materials, food, or shower gel can spice up your sex life, but it requires joint effort.
Other ways to spice up your sex life with sexy food could also include feeding each other food while dining in a restaurant. It may draw stares from other diners, but who gives a shit? Excellent foreplay may always piss off a few people, and why must everything remain in the bedroom?
Image Provided By: http://www.freedigitalphotos.net/images/view_photog.php?photogid=330