What Your Suit Says About You
Every man does wear suits.  A man who doesn't wear a suit is a boy.  That's a fact!  Now there are dozens different types of suits, but each one says a different thing about you.  Here's a funny little list of what your duds say about your personality.
Black Suit (Baggy):  You bought this in the 1990's and you really only wear it to funerals.  This isn't classy business black, but more like a large bulky two piece.  Gold buttons maybe.  No—dice.
Black Suit (Slim):  This is totally the opposite end of the spectrum.  You ordered this from Brooks Brothers.  You wear it with a skinny tie. Think The  Beatles and JFK. This is stylish.  You're cool beans!  This belongs with a white shirt.  Short jackets work well here and with really skinny lapels. Having  two buttons is the best, but don't button them both.
Blue Suit:  All business baby!  Navy is the power color.  Wear this with some brown shoes, brown belt, and  gray socks, and you'll be in business–Literally.  This looks good with brown accents, usually, and that includes a leather watchband. Ya dig? It's a good idea.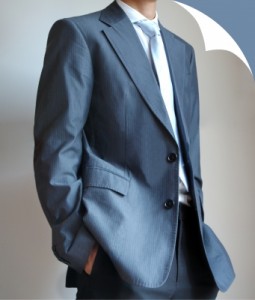 Tobacco Brown:  This is kind of a Don Draper type of suit.  This also applies to chocolate brown.  It definitely says some important things about your personality—like the fact you make ballsy decisions.  A cream shirt and a white pocket square work well here.  It deserves a shot, even if you're afraid of it.
Plaid/Tweed—Are you English?  No? Then you must be a menswear blogger.  Is it tacky?  Then you could be an old man.  It's a very malleable type of suit to wear—a real wild card here.  Tweed looks excellent on Englishmen.  Sharkskin works for greasy salesman.  If you like plaid, you might be Jason Schwartzman from Bored to Death.
White Suit: You're either going to prom, which isn't a good idea (go home and change), or, in a better scenario, you're John Travolta prancing around a bottom lit dance floor in Saturday Night Fever.  I guess this also works for someone in the mob.  Either way, it's a weird call.
Suits are awesome.  It's the reason Mad Men is on the air.  You need to evaluate your sartorial strengths.  If you don't own a suit yet, my gosh, you need to buy one!  Immediately.  It's the single most important thing any man should own.
Image Provided By: http://www.freedigitalphotos.net/images/view_photog.php?photogid=987