Tips To Get Her To Watch Porn With You
Porn is one of the most lucrative businesses in the world today and swarms the web with millions of videos and websites. It is accessible to anyone with an internet connection and watched by the most unexpected people. Contrary to popular belief, most women watch just as much porn as men do. If you're looking for tips to get her to watch porn with you, read below for some useful information on how easy it can be!
Ease Into It! First off you don't want to spring it on her. Sometimes being sneaky or having an ulterior motive may be best. Take her on a romantic trip to a sex novelty store for some harmless lingerie and lotions then make your way back to the naughty section. Browse around looking at everything and move on to the porn. You'll be able to easily tell by her reaction if she is down for some persuading. If she seems at all interested, ask if she'd want to buy one for fun and watch it together.
If this doesn't seem like the best route for you, try another. Look ahead of time a few days to see what is coming up on late night HBO, SHOWTIME, etc. When you're finished with your regular TV shows one night, 'stumble across' a steamy program on one of these channels 'by accident'. When it gets to a heated scene, judge her reaction. Don't make it awkward though; you'll need to make a move. Start kissing her neck and copying some of the actions on the screen and see how into it she gets. Have some foreplay fun. If she likes it that night, move on to more hardcore videos at her pace.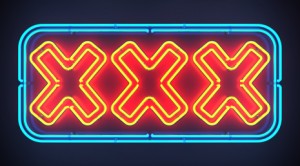 Make HER Feel Like The Porn Star! Many women who don't watch porn (or lie and say they don't) say this because of insecurities. If they find themselves imperfect, watching airbrushed and flawless porn stars can't and won't help their self-esteem any. If this has been brought up in conversation before, make clear that you think it's fake as well and wouldn't want a woman who looked so unrealistic in real life. Letting her know that the expectations of her appearance don't heighten due to you watching porn is a vital thing to fill her in on. Make her feel as sexy as you can and let her know she is still your number one; this will help to get her to watch some dirty videos with you! Also, don't forget, when watching the porn with her, never focus too much on the screen! Let HER watch and you focus on her body and you can listen to the sounds in the background. This will prove to her that she's more important anyway!
She's The Boss! Lastly, listen to what she wants and follow the rules. If she tells you she'll watch it with you if you promise not to watch it alone because it bothers her, honor her wishes. (Now, you don't have to ACTUALLY give up porn without her there but at least hide it well enough so she believes your lies). Make her feel like watching porn is an intimate and erotic thing you two can both do together and you don't even want to watch it alone. If there are certain scenes she doesn't feel comfortable watching, SKIP 'EM! She needs to be in charge in this experience if you want it to happen.
These quick tips to get her to watch porn with you will most likely work if she's at all interested in porn (light or hardcore). Any woman who is BLATENTLY AGAINST the porn industry is just not going to be convinced. Unfortunately if your woman says 'no' after these tricks, she's probably a safe that won't soon be cracked. But, if you're one of the lucky ones, you'll be in Porn Paradise with your girl in no time!