Marriage Proposal Tips: Are You Traditional Or Outside The Box?
Congratulations!  Or maybe we should hold off on the congratulating until you've gotten an answer back?  In any case, we applaud your bravery in jumping into one of the oldest and most respected institutions of all time!  May your marriage be a lot more Mel Brooks/Anne Bancroft than Kris Humphries/Kim Kardashian.
But what we're dealing with here is proposal tips.  A poor proposal could be the deciding factor between marrying your soul mate and a lifetime of loneliness, desolation, heavy drinking, and empty days—not to scare you or anything.  What is the trick to proposing?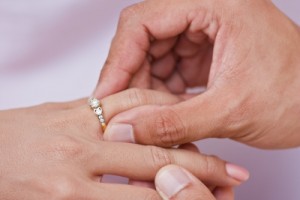 Well for starters, buying an engagement ring would work.  We're working hoping on the fact that you know she's the one (that's a whole other issue).  Assuming she's your one and only, you need a ring.  Three months pay right?  Or two months pay?  Just make it nice and not tacky and you should be in good shape.  That's definitely a step in the right direction to having her say yes to you.
The next real question you've gotta ask is whether you're going to take the proposal in a traditional or experimental manner.  If traditional is your style, then make sure you've got a nice restaurant.  Get fancied up and make sure she knows it's a big deal.  Have some guys playing violin come out.  Make sure the wine is excellent.  Give a little speech, and finally get down on one knee and ask her nicely if she'll be your wife forever and always.  It's cute!
But if you're like me, then you want to go off the beaten path.  Experimental.  Strange.  Good for you!  I recommend you get weird with it.  Jump out of a plane.  Write her name on the ground in fire.  Do some weird stuff!  It's cool!  I think it sets the tone for a crazy fun marriage, complete with extreme sports and danger.  It's better than a boring life of clammy restaurants.  That's just my own personal feeling.
No matter what you pick as your strategy, I do have a little sound advice for you—don't put the ring in food.  It's a stupid idea.  No one wants a ring they pulled out of some jello or a milkshake you shared.  It's not romantic, and hell, it's not even hygienic.  Yuck!  It will probably get lost anyway!
So there you have it!  Some brainstormed proposal tips for the modern man.  Know have at her, son!
Image Provided By: http://www.freedigitalphotos.net/images/view_photog.php?photogid=2079