Start A Relationship Through Online Dating
The world of online dating can seem uncertain. Is it possible to find the love of your life through a screen? But the trick is to know where to look since there are so many online dating sites vying for your attention. Some are free, others have a monthly fee, but if you are lacking confidence or are not a social type, it is possible to start a relationship through online dating.
Firstly, make yourself sound interesting by compiling a wonderful profile. If you find it difficult to write, why not hire a writer. Tell them everything about yourself, and leave the magic to be weaved in the hands of a competent writer who will make you sound like an unbelievable catch amongst the millions of bachelors. Set a target of $20 and use free sites like Guru and Craigslist to advertise. Don't worry about the curious questions. The women who find your profile interesting will be the ones who get in touch, and the best part is that you can answer with confidence, as none of what you say in your profile is a lie.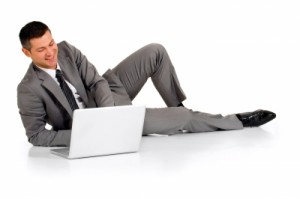 Most of the time, all that is required to start a relationship through online dating is great communication. If you would like to make a great first impression, firstly browse through the women who take your fancy, discover their likes and dislikes, and preferably begin a conversation with more than Hi, how are you? This is boring and, no doubt, she will have had many hundreds of the same. Be different and daring. If you have something in common, or you have had a vacation in the same country, start a conversation with that topic. If you ask her a selection of closed questions, you are learning only one-word answers about her. Be selective about your questions and ask open questions.
Never get raunchy with a woman online, especially if you want to find a long-term relationship. This only makes you stand out as the type of man into one-night flings. There are easy ways to start a relationship through online dating. Make yourself sound interesting and you will go far.
Image Provided By: http://www.freedigitalphotos.net/images/view_photog.php?photogid=1499