Sex Is The Perfect Excuse To Lose Weight
Women often make excuses when it comes to sex. She may be paranoid about the size of her thighs, buttocks, or belly, or rely only on missionary sex, but sex is the perfect excuse to lose weight. Doggy style immediately tones the buttocks, and if you grab her butt while pounding her, there is no excuse for jiggling flesh. Sex is a fantastic calorie burner. Foreplay fuels the metabolism, as does kissing. Oral sex is a fabulous facial toner and tightens a saggy chin, and semen is a youthful elixir. There really is no excuse to refuse exercise when it comes to sex!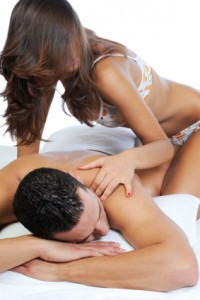 There are hundreds of exciting sexual positions to trial with a partner. Oral sex is not for everyone, but there is no better feeling than pleasuring a partner. Women may make excuses against fellatio, but this is the best and easiest way to tighten the face and jaw, plus vigorous head burns hundreds of calories, so you may want to convince her of this. This could be the best way to get more head.
Missionary sex may be the favorable position amongst women lacking bodily confidence, but it gives you no excuse to admire her body. Most men feel fortunate enough to feel a naked body, let alone see one. If your partner is a little body shy, encourage her to love herself more. Encourage her into arousal with a scalp massage, and then await her plea. There is only so much pleasure a woman can take before surrender!
And if you have the pleasure of a confident woman in your bed, experiment with an array of sexual positions. Buy a copy of the Kama Sutra and design a few positions of your own. Make no excuse to have energetic sex. Give her a full body massage with your tongue and then use an ice cube across her nipples and hips and give her an excuse to burn calories and regulate her temperature at the same time. Kissing, foreplay, and sex is the perfect excuse to lose weight. Encourage your love of her body and she will soon be more confident in her own skin. Once the weight starts dropping off, sex will remain her favorite sport.