How To Talk To Any Woman
Maybe you're a little reticent about chatting with the ladies.  Maybe you want to just make friends, or maybe you want to date somebody.  Either way, you need the tools to talk to any woman.  By all means it's difficult.  Some guys make it look really easy.  Thankfully it isn't necessarily a born skill, but rather a learned practice.  Before you know it, you'll be a real badass Casanova.
1) Put Some Hours Into It: The more you work on it the better you'll get.  The worst thing you can do is avoid speaking to women because it will only make you more shy and more rusty when you try it out.  Any chance you get, speak to the ladies!
2) Be Yourself: Don't be a weird dude, but don't front too hard if you're trying to pick up the ladies.  Act like a chill guy and don't say anything too bat-shit crazy and you should be golden.  Honesty is the best policy.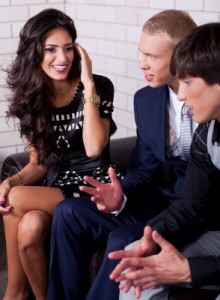 3) Stay Interesting: Don't talk about yourself too much, because listening is probably the better skill than talking, but try to seem at least a little interesting.  Better yet, make yourself seem pretty cool!  Speak vividly and make some eye contact and don't shy away from the conversation.  It builds character.
4) Don't Be A Dick: That also goes for being smarmy, arrogant, creepy, douchey or any other negative things.  Women, and humanity in general, doesn't want to talk to assholes.  Maybe women don't want to talk to you because you aren't a cool enough guy.  Be nice to people and they'll be nice to you.  Keep that in mind!
5) Puff Out Your Chest (A Little): Treading the line here, but you want to have some confidence here if you're chatting it up.  Act like you like yourself, without acting like you're in love with yourself.  Just show that you're a stable, normal, funny guy who's worth their time.  It's a great skill to have in any circumstance.
Conversation with attractive women can be really, really rewarding.  Soon you'll have a whole mess of lady friends, platonic and otherwise.  It takes hard work and practice and maybe when it's all said and done you'll be able to sleep with somebody sexy.  Who knows? With a few simple steps you'll know how to talk to any woman.  Good luck and get lucky.
Image Provided By: http://www.freedigitalphotos.net/images/view_photog.php?photogid=2125