The New iPad…Apple Rocks It Again
Simply called 'iPad' this third generation rollout since the death of Steve Jobs offers minimal, yet impressive, changes that will continue Apple's stronghold on the tablet industry. Jobs would probably have added a feature or design tweak that only he could have dreamt up in his 'Einstein-ian' mind but for now the reins of the iPad team seem to be steering in a compatible direction. If you already own an iPad first or second generation there is no need to trample old ladies and babies to get this one however if you are just entering the market here are some of the new features.
Retina Display
This new display offers four times more pixels than the previous design. Coming in at a 2048 x 1536 resolution (iPad2 is 1024 x 768) it is being critiqued as better than an HDTV experience. In fact, Apple claims it holds a million more pixels than HDTV, 264 per inch to be exact. Even though this same feature was used in the iPhone 4, viewing it on the iPad's large screen is highly impressive. You can now feel as though you are able to reach right into your favorite porn video and diddle an erect nipple as if it were pulsating right in front of you. In addition, if you are a tablet reader, the text on this new screen far outweighs any other reader on the market.
Camera
Advancing from approximately less than 1 megapixel found on the iPad 2, the new design boasts a 5-megapixel sensor along with image stabilization and the ability to shoot a full high-definition video, all taken from the iPhone 4S. Combine camera images with the $4.99 iPhoto Mac app and editing plus sharing your creations will wow just about anyone.
Wi-Fi
The Internet speed on the iPad goes from 3G to 4G, LTE. It is not the first tablet to use the 4G LTE cellular technology, but it easily surpasses the iPad2. Depending on your carrier and use, you can experience speeds between 12, 17 and sometimes up to 40 megabits per second.
Battery
According to the numbers, it may seem that the battery on this new version has weakened. Some unofficial stats tested by diehard bloggers playing videos back to back come in at 11 minutes less in power capability (iPad2 is 10 hours, 9 mins, iPad is 9 hours, 58 mins). However, built in power support is provided for the demanding 4G, LTE network so all in all, for what the iPad is capable of, the battery has more strength than any other tablet.
Some other minor changes compared to the iPad2 are: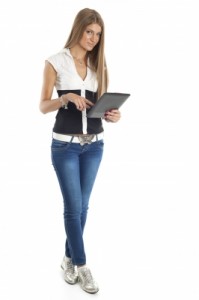 Weight: 1.33lbs to 1.44lbs
Thickness: 0.34 inch to 0.37
Price: $399-$529 to $499-$829
The third generation iPad will only pave the way for more innovation down the line such as 3D, hologram and possibly alternative energy (solar) technology. Who knows, maybe, by the 20th version you will be able to hop on and ride it to the moon or use it on your woman as a super duper vibrator.
Image Provided By: http://www.freedigitalphotos.net/images/view_photog.php?photogid=4061