5 Style Accessories Every Man Should Own
A man's wardrobe is a direct reflection of the type of person he is, or chooses to be.  All those things your Dad said about dressing for success, or dressing for the job you want are completely true.  If you want to look good, you have to pay attention to the details and the details are the little things about a wardrobe.  These are 5 of the style accessories that every man should own:
1) Cuff Links—James Bond wears them and they're badass.  Of course this means you'll also need a shirt with a French cuff, but all the more reason to buy one.  The kicker is that you can't buy stupid novelty cuff links—just plain silver or black will do.
2) Pocket Square—And I don't mean the kind that's sewn into a jacket already.  Buy yourself a few pocket squares with solid colors, or stripes, or even polka dots and you can mix and match.  It's a relatively masculine way to accessorize.  Give it a shot!
3) Tie Bar—Perhaps the coolest piece of jewelry around.  A tie bar is a little tiny clip that sits across your tie lengthwise to tell the world that you mean business.  Spice it up and get your name engraved on it, or have it monogrammed.  You'll like you own the world.  And just as a note, it goes right in the middle of the tie because too high or too low will look tacky.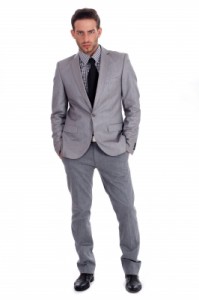 4) Collar Stays—Now this is one that isn't necessarily visible right off the bat, but should definitely be a part of your shirt routine.  These small metal stays go in the point of your collar so that your collar doesn't flop around or get bent out of shape.  They come in a few size depending on the collar, so pick up a set and put them to good use.  Just don't forget to take them back out before you wash the shirt, because they can do some damage.
5) Cool Ass Socks—Everybody wears boring socks these days.  Snag up a pair of cashmere socks with some crazy designs.  Roll up your pants a little bit and show them off!  It pulls a whole look together.
So there you have it! Some of the most important things in a man's closet.  These are just five of the style accessories that every man should own, but you can discover the rest for yourself!
Image Provided By: http://www.freedigitalphotos.net/images/view_photog.php?photogid=2125