Hot Sex: The Secret Sexual Positions She Loves
Missionary sex does not always push her buttons. Sure, your body may cover the parts of her body she hates, but having missionary sex every day is a fast way to turn the sex life boring. The secret sexual position she loves may not come up in conversation, and you may have to ask her to cooperate, but what's the harm in asking? She may have a sexual mind underneath brimming with spontaneity.
Some couples like to communicate in the bedroom, which makes it easy to try new sexual positions, but it can be difficult to discover the secret sexual positions she loves, especially if she is a timid lover.
Ian Kerner, Ph.D and author of She Comes First and He Comes Next said unlike men, women can lose an orgasm almost in the midst of having one.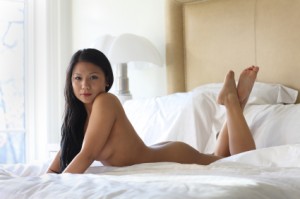 The problem with missionary is its lack of stimulation to her clitoris. Many women have not experienced a vaginal orgasm and prefer to have regular clitoral orgasms, but unless you have been dipping into her juices and rubbing your dick across her clitoris before intercourse, it is doubtful she may come during missionary sex. A wonderful couples sex toy is the We 3 Vibe, which stimulates her clitoris while also vibrating against your penis during sex.
If she is confident about her body, she may encourage the spider position, which requires her to face you while balancing on her hands and lifting her knees to experience a deeper thrust.
Reverse cowgirl does require confidence, but her ass looks immediately tighter and you have a hot view to masturbate over for months. Imagine her throwing back her head and masturbating while she is pounding you and the scene turns hotter than a porno!
Doggy style is another secret sexual position she loves. It is primal for you, and you can reach around to stimulate her clitoris whilst penetrating her g-spot. Doggy style is also similar to having sex on a chair where she is in control of each thrust.
Spork is similar to spooning, but more adventurous. Sex Therapist, Rene Hollander Ph.D says if she's limber enough, he can also lift her leg, thus increasing penetration. This position is the bridge to further spontaneous moves.
It may take slight effort to persuade her to disclose the secret sexual positions she loves, but if she is a confident chick, she may be up for them all.  Always focus on her sexual satisfaction before yours, and she may just surprise you with her demands.