Orgasms: Is Her Orgasm The Real Deal?
Many women are poor communicators in the bedroom, so how can you really know if she is faking, or if her orgasm is the real deal? From experience, I have done a lot of experimentation with masturbation and I'm even amazed at the process the vagina and clitoris undergo during the big O.
Lubrication
During sexual intimacy, if she is heavily lubricated during foreplay, kissing, or heavy petting, be assured that you are having a stimulating effect on her mind. Without the mind, it is near impossible to reach arousal. It may take a while for her to become lubricated, but if she's giving as good as she gets, remain patient and the juices will soon start to flow from her, and drive you further frisky. Just before orgasm, white or clear juices dribble from the pussy.
Cunnilingus
Although it may not be a favorite foreplay move for a women, as sheer paranoia is enough to throw her into saying she hates it, many women are fearful of letting a partner near their natural vaginal scent. This is why it is beneficial for a woman to masturbate regularly. Gradually the scent becomes sexy and it is impossible to hate its uniqueness.
Once you are stimulating her g-spot, and she is arching her back in ecstasy, move onto her clitoris.  It is fat, ruby, and even a warm breath drives her crazy. Keep the clitoris wet with saliva or oil. This makes it easier for her to climax, as it can be difficult for her to relax during oral sex.
Vaginal Contractions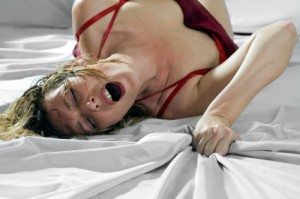 The only real way to notice if her orgasm is the real deal is to watch up closely. During oral sex, you may not get to see her pussy blossoming into an orchid, but her moves will more than compensate. If she squeezes your head between her legs, she is probably in orgasmic heaven. Watch for the flush on her face and chest, it arrives immediately but may disappear in minutes.
Dominate
The simpler way to ensure her orgasm is the real deal is to tell her you would love to see her sit on your face and masturbate. This extreme pussy close up will not only drive your dick hard, but you will get to view an extreme close up of her pussy drooling seconds before she cums.
If you see no changes in her body, it's very likely that her orgasm is not the real deal, and the only way to overcome this is to communicate and discover her sexual fantasies, because a fantasy can easily tip her over the edge. Masturbating will help her discover her body and encourage her to love her sexuality.