5 Tips For Men To Look Their Best
Men have no excuse to look shitty.  If you currently think you look shitty—it's really easy to up your style game.  You'll feel better about yourself and other people will take notice!  Honestly, it's not hard to go from poorly dressed to looking great.  Here are 5 tips for men to look their best.
1) Buy a Suit: I have no patience for men who don't own a suit.  It's a necessity.  A blue suit means business, a black suit means formal, and a brown suit shows you have some balls.  Get a decent suit and put it to good use.  Dressing classy is something every man should strive for.
2) Get a Tailor: This is an extension of buying a suit, because an ill-fitting suit isn't good for anyone.  Get a decent tailor and make sure your suits and shirts fit well.  You want a suit to be slim, not baggy.  If you wear a baggy jacket and huge pleated pants, you'll look like your grandfather.  You want to look like Mad Men, not Craig Sager.
3) Find a Barber: A haircut is worth spending a couple extra bucks on.  You want a haircut that shows you mean business—clean yourself up a little bit.  Find a barber who knows all about men's hair.  Whether you want short hair, long hair, no hair or something in between, a good barber is worth seeking out.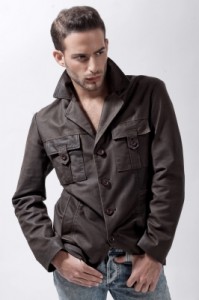 4) Watch the Details: A sharp man pays attention to the little things.  Familiarize yourself with a few things: cuff links, collar stays, tie bars, after-shave, pocket squares, braces, and collar pins.  You won't regret picking up a few of the smaller things.  Looking good is about the big picture, so watch the details that matter.
5) Attitude: Looking good has a lot to do with feeling good.  You can't look your best if you feel bad about yourself.  Act like you care about yourself and you'll look like you mean business.  Try some new things out—wear something ballsy!  A gutsy attitude will make you look your best.  Don't be afraid!
Men, as a whole, need to take better care of themselves.  Looking your best will make you more datable, employable and likable.  Work hard to look good and you'll feel better about yourself.  These are only 5 tips for men to look their best—but the list goes on and on.  Give it a shot!
Image Provided By: http://www.freedigitalphotos.net/images/view_photog.php?photogid=2125