Travel Tips: Making it Suck Less
The world has gotten smaller and travel has gotten more annoying. Whether you are flying, driving or railing being aware of some simple travel tips can make your trek that much less of a pain in the ass.
Pack for Loss
Baggage is lost every day and many bags are never recovered. If you need to check bags make sure your carry-on has the essentials needed to get you through a few days if your other luggage is lost like toiletries, socks (forget underwear you can go combat), one or two outfits, an umbrella and of course your important documents.
Book Business Hotels on the Weekend
Many business district hotels charge higher rates Monday through Thursday for business travelers. Once they leave, the weekend rates are reduced.
Tuesday Deals
The best time to book a flight is on a Tuesday. Many airlines post discounted rates on Monday and by Tuesday all the competitors follow suit.
Bag
Bring an extra sturdy, gallon plastic bag to use for garbage or emergencies like a hocked up snotball.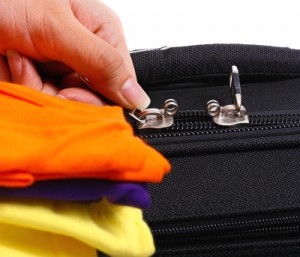 Dress Right
Wear loose fitting clothes and slip on shoes to endure elongated cramped quarters. Always carry a light sweater for temperature changes. Stow away metal or electronic devices to get through security faster.
Keep it Local
Hotels will always direct you to a tourist trap even if they tell you it is 'off the beaten path'. The best advice to find places to eat and shop is by asking the locals. If language is a barrier, simply stay away from menus and signs printed in English (you may want to bring a language decoder so you can figure things out).
Stay Healthy
Encapsulated spaces are Petri dishes for germs. Therefore, build up your immune system before you travel and bring such things as vitamin C, probiotics, elderberry, dried gingerroot (eases the stomach) and zinc. Airborne is a great formula that incorporates vitamins, herbs and minerals all in one tablet that fizzes your glass of water into a pleasant tasting germ, ass-kicking beverage. Yogurt is a snack that adds friendly bacteria, protein and just enough fat to keep you from overeating crappy food.
Avoid the Masses
Wherever you travel make sure you research the least busy times. This may mean calling the souvenir shop and asking a worker what times and days of the week are least crowded. If it means pulling your kid out of school to get the least aggravation for your buck, then so be it.
3-1-1
Visit the TSA (Transportation Security Administration) website to familiarize yourself with recent security protocol. Currently it is the 3-1-1 rule for carry-on luggage liquids: 3 ounce containers (or less) in a 1 quart plastic bag, 1 bag per passenger.
These travel tips are a few ways to make your trip bearable. Other tips: wipe your in-room keypads, like on a safe, before putting in your code; don't accept a drink from a stranger; always have a charged MP3 player to drown out screaming children (especially if they're your own).
Image Provided By: http://www.freedigitalphotos.net/images/view_photog.php?photogid=2664