How to Pull Off a Threesome
If you want to spice up bedroom play, adding another member to the action can be a real mind blast. How to pull off a threesome requires planning, patience and most importantly, an open mind. Whether it is two women and you or you, a bud and an insatiable lady, experiencing a ménage a trios will raise you to the ranks of pro-ho.
Plant the Seed
After a few drinks, talking to women about sex can be like stealing candy from a baby. Without being too crass, simply slip into a conversation the mention of something sexual that you read or how your friend did this or that. Respectfully, talk about positions, anal sex, outdoor sex and then threesomes. Soon you will see the women start to twirl their hair, nibble their fingers or rotate their feet, all signs of being turned-on.
Pillow Talk It
As you are starting to heat things up in bed, ask her if she would ever want her favorite celebrity (man or woman) to join in. Make it a fantasy game and talk as if the person is in the room while you get her so wet and ready that by the time you plunge in she is wishing the other one was there. Note: Bringing a man into the bedroom can be very difficult to accept given so many factors such as: size, crossing-swords, respect, etc. You may want to stick to a female-female scenario before venturing further.
Research
Three-way porn can be very helpful in enabling your woman to start visualizing your threesome. Look for 'female friendly' companies that create more loving porn rather than raunchy, graphic images to start. You can graduate to the real dirty stuff if she seems willing.
Vacation Prospects
Sometimes friends are too close to home to recommend for a threesome. Therefore, take a trip somewhere exotic and point out people you think may be good candidates. Many couples have mind blowing threesomes on vacation given the anonymity and sheer, uninhibited atmosphere.
Lay the Law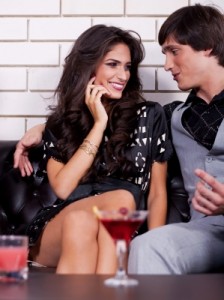 If it's a few women you meet at a bar to run back to the bedroom with, then all the power to you but if it is a threesome with your girlfriend or wife some initial concerns should be discussed beforehand. This includes deciding upon: kissing, intercourse, fellatio and cunnilingus regarding the additional person and what is and is not allowable. Also, make sure you are both on the same page of not contacting your third party without the other person's knowledge.
The Reality: Safety
AIDS and STD's are still running rampant, so unless you can get a recently dated doctor's test from your partner or partners, you must use a condom. Abstaining from oral sex is a good idea too unless you feel like using a dental dam (covering over the vagina).
Overall, how to pull off a threesome takes time but can be well worth it. If you do it successfully, it can be a whole new orgasmic world.