Coping with Divorce
Whether it is you or your parents, coping with divorce takes a lot of personal strength. You can take up heavy drinking or become a drug addict to numb the pain but in due time you'll find yourself rolled up in a fetal position wishing you had taken easier steps. With the divorce rate fluctuating at roughly fifty-percent, finding ways to deal with this social collateral damage could help you avoid unnecessary emotional baggage.
Remain Copacetic
Staying calm and keeping your anger at bay is the first line of attack when it comes to dealing with a separation. Whether you found her in bed with the FedEx guy or you decided to peruse a tighter, funnier, saner mate keeping your emotions at bay will go a long way down the line. She may come at you with claws out and the razor sharp teeth of a lawyer but being the stand-up guy will reap years of blame her way, not yours.
Hide Your Money
As soon as you think the boat has sunk gather all your assets, liquid or otherwise, and separate yourself from them. Take as much as you possibly can out of your name while at the same time setting up a 'divorce account' that you can use for the sole purpose of appeasing the courts and her rabid need for your cash.
Find a Bulldog Attorney
The only way you will not kiss your ass and everything you worked for goodbye is by finding an excellent divorce lawyer. Do not use your Uncle's friend's brother's patent attorney just to save a buck. Get the best you can because in a court of law those who know their shit will bury the next guy. You may have to take out a loan but you can think of it as a 'starting over' fee to get you on the path you deserve.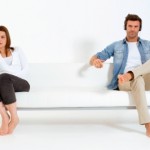 Shrink Yourself
It takes two to snap in two so hashing out your baggage with a professional therapist can go a long way in forging your next relationship. If it's your parent's divorce, therapy can open a whole world of self-teaching to help you not make the same mistake.
Do Not Hide
Divorce can bring with it feelings of confusion, shame and failure. Surround yourself with a positive support system that does not bash your ex but simply listens to your sadness, anger and self-realizations.
Kids
Your heart will ultimately break if kids are involved. Stay patient, strong, mature and communicative with them and never disappear. Therapy for the kids is also very helpful. Never badmouth their mother in front of them. Always stay positive and upbeat so they can remain on a healthy path.
Coping with divorce can be turned from a disaster into an opportunity. Take care of your body and mind through this journey (some say it can be as debilitating as coping with cancer) and soon, you will be back in the saddle using all your old hip gyrating, tongue wagging moves.
Image Provided By: http://www.freedigitalphotos.net/images/view_photog.php?photogid=1499