Cooking to Impress and Undress
Get her in your man cave and follow the recipe of cooking to impress and undress for a night to remember. Prepare a meal full of secret, wetness-inducing ingredients that will have her in the palm of your hand, purring like a cat.
Libation
Start off with a beverage to get her genital arousing, gustatory juices flowing.
• Red Wine – The alcohol will relax her mind but resveratrol, the famous red wine antioxidant, will enhance circulation increasing blood flow to all the right places.
• Pomegranate Martini – Pomegranate is also associated with antioxidant activity including increased genitalia sensitivity.
• Carrot Juice – She doesn't drink? No problem. Juice together some organic carrots along with a dash of fresh ginger root and a few basil leaves. Serve cold in a fancy glass. Carrots increase libido, basil calms the body and mind, ginger spices the palette and increases circulation.
Sexy Lobster Salad
Lobster contains energy packed protein for stamina, as well as zinc and B-12 which enhance sexual desire. Boil two 1 pound lobsters for about five to eight minutes, remove meat, roll in paper towel and chill in the fridge. Chop up 6 trimmed baby fennels (which contain libido enhancing plant estrogens) and add to a skillet of ½ cup of heavy cream; ½ cup of chicken or vegetable broth; 1 tblsp. of unsalted butter. Mix the skillet ingredients with the lobster and mash with a fork. Add a dash of sherry, salt and pepper and finely ground chili peppers (stimulates nerve endings). Serve on beds of endive leaf placed in a flower circle on a fancy plate.
Horny Vegetarian Alternative: Green Beans, Shallots and Almonds
The scent of almonds arouses the sexual appetite. Boil green beans keeping them crunchy not soft while gently sautéing shallots and extra almond slithers in a skillet with some olive oil on a low flame. Drain the green beans, pour the skillet mixture over the beans and serve in a fancy dish.
Getting Her Hard and Wet: Asparagus-Avocado Side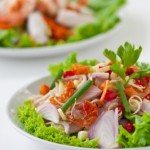 Keeping it light so as not to weigh down your date with hard to digest choices, serving a side of sliced avocado sprinkled with lemon, salt and pepper along with delicately blanched asparagus drizzled with parmesan and lemon will swirl her senses. The high Vitamin E content of these two greens enables the body to produce testosterone, estrogen and progesterone which all work hand in hand to engorge the clitoris and lubricate the vagina.
Melt Her with Chocolate
Any chocolate dessert contains phenylethylamine, a natural stimulant that releases serotonin (the feel good brain chemical) creating feelings of love including the need for your seed. If she doesn't like chocolate don't fret, vanilla also stimulates nerve endings and the scent increases libido.
Not only will cooking to impress and undress get her in the mood it will also show her that you care enough to prepare a feast just for her. Treat your lady like the Queen she wants to be and she will most likely make you feel like a King.
Image Provided By: http://www.freedigitalphotos.net/images/view_photog.php?photogid=2367