4 Kinky Sex Moves: Let Your Freak Flag Fly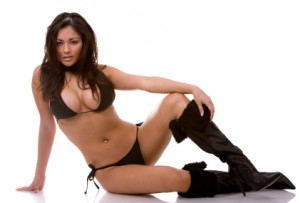 Is your sex life vanilla?  Does your spank bank of porn play in your head as you huff and puff through yet another, boring, missionary thrust? Does she wish you would throw her down and get nasty like the porn she's been flicking her bean to? Either way, it may be time to turn it up a notch and try these 4 kinky sex moves to get the blood flowing and the body fluids flying.
1. Classic 69: Add in Some Kink
It may not seem kinky but the classic 69 position (your head in her crotch, her head in yours, simultaneously) can be a hot and heavy doorway to even more kink, especially if you add in the following:
• Turn on the Lights – Your and her most intimate anatomy will be hanging in the wind. Diving into this visual could send your kink-meter off the charts.
• Slip it in the Backdoor – As you perform the alphabet on her clitoris with your tongue, using your free hand, start massaging the outside of her asshole (make use of available juices to lube it up). Dart a finger in and out until it penetrates. She may do the same to you while slurping on your pole and soon you will both be so locked up in a kinky love chain that explosions of all levels may occur. NOTE: Before you attempt a 69 make sure are trimmed and showered.
2. Mutual Masturbation
It is time to let your kink rise to the surface and start showing your best stuff. You (and her) have most likely been practicing masturbation for years, so lie back and start stroking together. You can vary this kink by facing one another, getting on all fours, standing, turning on the lights, or even doing it in public (don't get caught though, especially if you're the local gym teacher).

3. Between the Mounds
Titty fucking is a kink many guys want to explore. Start with a naked massage. Use massage or body oil and after actually kneading some muscles turn her on her back. Then, slowly straddle her chest, push together her tits and squeeze your cock through her tight, oiled up, boob-hole. In no time she will receive a hot pearl necklace that will have her thinking of this kinky move all day at work.
4. Spank and Pull
As you go at it from behind, try landing a light spank on her ass cheek. At the same time, give her hair a tug. If she responds, then, without hurting her, get a little more aggressive. She may very well start screaming for more as her ass turns beet red and you become her master.
These 4 kinky sex moves could really heat the sheets. Try them out, come up with some of your own and soon, either way, you will be a walking boner as you wait for your next kinky session.